What is An Electric Herb Grinder?
Mainly made as a kitchen tool for herbs and spices, the electric herb grinder is now widely used to shred and grind cannabis (Marijuana). These metal weed grinder devices have sharp pegs that finely crush the herbs until they are best and easy to hand roll into a joint and burn well.
Electric weed grinders usually have 2-3 compartments with screens that help separate and filter the ground product, from the marijuana trichomes and kief.
Grinding your weed by hand can be very tiring and messy. There may be times when we would exert so much effort especially with our hands but couldn't get the desired textured uniform product. We don't want that right? There's always a choice for efficiency and convenience when it comes to grinding your herbs. Plus, these tools are great for people with hand tremors, carpal tunnel syndrome, fibromyalgia, or arthritis. There are various kinds of electric herb grinders in the market that you can choose from.
Take note that electric herb grinders have each their own features and unique functions depending on their prices and size. In looking for a good electric grinder that will work best for you, you have to also consider the storage capacity and energy source, and if prefer using a plastic or metal device. Now, I'll present to you two (2) of the best electric weed grinders in the game.
Tectonic9 Auto Dispensing Electric Weed Grinder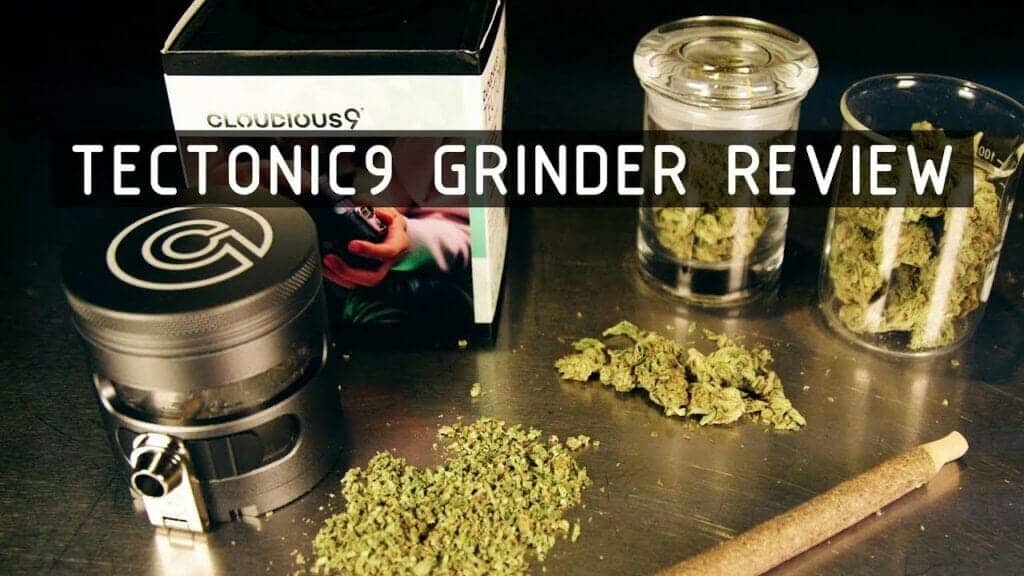 The Tectonic9 Auto Dispensing Grinder by Cloudious9 will make you feel like you're using a traditional grinder but with modern technology. If you're looking for an electric grinder that is very easy to use and would not waste even a pinch of your dry herbs, then this is the product for you. The auto function and one-button operation do wonders. No mess and less waste. It is highly durable and reliable as it will also assure you that you put the perfect amount of herbs in. With its pegs or teeth manufactured with Diamond 28 CNC and the vibration motor, the consistency of the grinds will surely be fluffy and fine.
What's also amazing with this cool portable electric herb grinder is that it is equipped with a LED Illuminated Viewing Window with light. This will help you check your dry herbs and whatnot inside the device. Once your dry herbs are well-grounded it will be transported through the flip spout by a built-in motor which contributes to its convenient loading process. Its internal functions distribute the herbs evenly before the dispensing process. This prevents clogs or jams to arise, thus, a smooth grinding process.
The package comes with the Tectonic9 Auto Dispensing Grinder, a charging cable, a user manual, and a charging bag.
PROS
Simple and easy to use
Automatic function
Long battery life
CONS
No Kief collecting
A bit heavy
Loading space is small
Banana Bros. Otto Cone Roller and Electric Herb Grinder
Do you want your dry herbs premium ground and your cones perfectly rolled in just mere seconds? This all-in-one Otto Grinder by Banana Bros. will do all the job for you and all you have to do is put in your dry herbs and cones, press the button, and enjoy the process.
This Otto Grinder is the world's first automatic smart rolling machine that is aided with a single button operation. Designed with SMART grinding technology, it can detect the material consistency, and its pegs or teeth are high-grade, wear-resistant great for grinding your materials such as dry herbs into fine grounded granules.
Expect no mess and odor on this one because its o-funnel and transparent cone tube will ensure that it is going to be steady and spill-free. And with an automatic cone roller coming with it, it is also packed with 20 premium cones that are crafted in Bali. These are free of GMOs, chlorine, and animal products.
This all-in-one electric herb grinder is going to bring your joint smoking experience to a whole new level.
In the package, you can find a measuring cup, USB rapid charging cable, o-funnel, 4-in-1 tool, fresh seal cone tube, premium cones.
PROS
All in one (grinder and cone roller)
Easy to Use
The ground is fine and consistent
Fast and time-saving
Prevents over-filling
CONS
A bit on the pricey side
Differences Between The Tectonic9 Auto Dispensing Grinder And Banana Bros. Otto Grinder
Both of these electric grinders work wonders and are amazing with their own unique features. In pondering what to take between the two, it would be good to know your budget and what functions you are after.
If you are looking for an electric herb grinder that is less pricey, simple, automatic, and basically just does its job in shredding your materials then you can consider getting Tectonic9 Auto Dispensing Grinder. It has a LED Illuminated Viewing Window with light which will help you see what is happening inside during the process. And its vibration motor makes the consistency of your material fluffy.
On the other hand, if you are thinking of going all out with a high budget, the Otto Grinder is a nice choice. It is automatic as well, and it does almost everything for you from grinding to cone rolling, and it comes with 20 premium cones. Its SMART grinding technology, along with other functions, makes everything efficient, convenient, and hassle-free. The other parts of devices help the process be steady with no spills and bring out the finishing result of finely grounded materials with great consistency.
CONCLUSION of the Best Electric Weed Grinders
Aside from finding the perfect electric weed grinder, you also have to make sure that you use it properly and follow proper precautions. Especially with your dry herbs. Be a responsible user. There is so much to learn about joint smoking and vaporizing, and the many choices of devices that we can find in the market. That being said, you can check out the Tectonic9 by Cloudious9 website and you can find the Banana Bros. OTTO here Vapor.com.