Pinnacle Pro Portable Vaporizer Review
The Pinnacle Pro is not just another portable handheld vaporizer. VaporBlunt, the company who designed the original pinnacle, has taken customer service to a new level. Using a forum style dialog about their products gives a unique relationship to the home user and the developers allowing them to key in on issues and improve upon them. The outcome of these interactions may be one of the smallest handheld vaporizers on the market as well as one of the best portable vaporizers of 2014.
Here are some of the features of the pinnacle pro:
– Ergonomically compact stealth design – Pocket Sized
– Ceramic Heating Element
– Supports both Herbs & Oils
– 14mm Tapered Adapter
– Refillable 9mm Rapid Refill Bullet Chambers for Herbs
– (FMJ) Full Metal Jacket shell for oils
– Five Multi-Color LEDs
– Rapid Heat-up Cycle (90 Seconds)
– 5 Heat Settings (370F – 470F)
–  Lithium-Ion Battery
– Can be used while plugged in
– Auto Shut-off
– Optional hydratube water filter
– 1 Year  Limited Warranty
UNIQUE BY DESIGN
Stealth Design
The Pinnacle Pro's stealth design makes it a great travel vaporizer as it fits easily in the pocket and comfortably in your hand. The Pinnacle pro's compact design measures at 5.5 in. long by 1 inch wide making it one of the smallest portable vaporizers on the market. The Body of the unit is made from high impact high-grade plastic polymer.
Easy to Use
The Pinnacle Pro is simple to use having a one-button control. One button press will give you the battery life readout signified by one to five LEDs lit up. and each successive press will increase the temperature setting. To prevent accidental activation the pinnacle has a ridge design around the button controller.
Excellent Vapor Production
The Pinnacle Pro has a high quality ceramic heating element. The element heats to temp setting one within 90 seconds and has an additional 20-second wait for each increasing temp setting. The high-quality heating element allows for a clean and even vapor extraction from botanical materials.
This means little to no stirring is needed and dense vapor clouds are produced. The vapor path and bullet system allow for pure and clean vapor, giving you great flavor.
"To get massive clouds, pack the bullet tightly, but allow for some airflow"
9mm Bullet Chamber System
The Pinnacle Pro is designed to deliver a robust vapor cloud while retaining the delicate flavor or herbal materials. The Pinnacle Pro uses a removable and refillable bullet-style rapid reload chamber system. Each bullet bowl can hold .2 – .3 of a gram of dried herbs. The Bullets are a metal bowl with a screen at the bottom. They resemble a spent 9mm shell. Included with the Pinnacle pro are two(2) bullets and one (1) Full Metal Jacket bowl for oils.
An all-glass vapor-path directs warm airflow into a ceramic chamber heating the 9mm bullet system. This allows for conduction and convection heating. Convection from the heating element and conduction from the steel bullet housing. Let the bullet cool down for 30 seconds when you are done vaporizing as it will be hot. Allow it to cool before removing it, or take precautions of where you will be dropping it out of the unit.
 5 Temperature Settings
The Pinnacle Pro has five temperature settings starting at 370F and increases by 25% increments to 470F. The 5 multi-color LEDs correspond to the temperature settings.
The settings and colors are as follows:
Temp 1 – 370° – Blue – Very Tasty, Light Vapor
Temp 2 – 395° – Green – Still Tasty, more neutral, less herb taste
Temp 3 – 420° – Yellow – Neutral to faint popcorn taste
Temp 4 – 445° – Orange – use water tool, this is where you pull solo like clouds
Temp 5 – 470° – Red – getting harsh even with water tool, primarily for oils
You'll notice the pinnacle pro offers a much higher temperature range than most portable vaporizers. this is because Vaporblunt designed the pinnacle pro to work well with leafy material as well as oils, waxes, and butter.
Temp 5 setting is recommended to vapor extract from oily materials and at this heat, it is also recommended you use the optional hydra tube to cool and smooth the vapors.
14mm (Pong) adapter.
There have been complaints about how to lose the standard mouthpiece fits onto the Pinnacle Pro. To get a better fitting mouthpiece I used the 14mm adapter as my primary mouthpiece. This 14mm adapter not only serves as its own mouthpiece but allows you to use the pinnacle Pro in conjunction with the optional hydra tube or it can be fitted onto a glass on glass water bong or pipe.
Using the hydration or a water filtration system such as a bong is recommended when vaporizing at the hotter temperature settings. like temp setting 4 – 5. These settings are usually overkilling for leaf materials, but work perfectly for the oils, waxes, and butter.
Lithium-Ion Battery of Pinnacle Pro Portable Vaporizer
The Pinnacle Pro is fitted with a Lithium-Ion Battery. It Recharges in 3 hours and Provides for 45 – 50 minutes of continuous use or approximately 5 – 6 10 minute sessions. The Pinnacle Pro also comes with a sleek charging stand.
The Unit can be used while it is plugged in and charging which is really a must-have. There is also an Auto Shut-off feature that turns the unit off after 10 minutes.
Easy to Clean
The Pinnacle Pro is extremely low maintenance. The only cleaning needed is the bullet chambers where you will be putting your herbal material and oils. Every once in a while you will want to swab out the area under the bullet as particles will work their way in.
To clean the bullets simply soak the bullet bowl in some isopropyl alcohol to remove the built-up residue and it will come out looking new.  The same method can be used for the full metal jacket bowl as well.
Over time both styles of bowls will need to be replaced along with the screen in the mouthpiece adapter.  To keep the heating chamber clean, remove the bowl and brush it out after every use.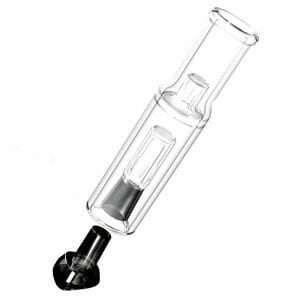 Pinnacle Pro HydraTube
The Hydratube is a glass water tool that can be attached to the Pinnacle pro using the 14mm adapter piece allowing for bigger vapor inhales without the dry hot heat normal to vaporizers. The Hydratube can be bought together with the pinnacle pro in a deluxe kit or by itself for under $100, other more elaborate water tools are also available.
The HydraTube is 5 inches long having over a dozen percolators to maximize the vaporizing experience. The HydraTube is made from the highest quality borosilicate glass. The hydratable has a ground glass on a glass connector and can be used in conjunction with any like-sized glassware.
Having the Hydratube cuts down on harshness in the lungs and throat allowing for much larger inhales. This water tool is a must for anyone wanting to utilize the Pinnacle Pro Portable Vaporizer with extra efficiency and increased performance.
Overview
Pros:
– Incredible Vapor production, Dense Vapor Clouds
– Very even vapor extraction with good flavor
– Versatile – Supports herbs and Oils<
Cons:
– Battery Life – Could have a longer battery life
– Mouth Piece – the mouthpiece fits loose
– Heat – the unit does get warm after a session
CONCLUSION

In a test comparison with the Arizer solo the pinnacle pro vaporizer extracted material just as well, the bullet system hold approximately the same amount as a solo's stem bowl, and many preferred the pinnacle system because of its ease of use and stealth portability.
In my opinion, the Pinnacle Pro Portable Vaporizer is a contender for the top portable vaporizers of 2014. Its sleek stealth design and ease of use makes this a great travel vaporizer. The battery life is limited, and the unit tends to run a bit on the warm side.
All in all, with the ability to attach the vape to any glass on glass fitting water pipe (using 14mm adapter) or the optional hydra tube. The pinnacle's versatility of vaporizing herbal materials as well as oils has made this vaporizer a pleasure to work with. I will definitely recommend to my friends.
Check out this site to go buy it: > Pinnacle at VaporNation.com