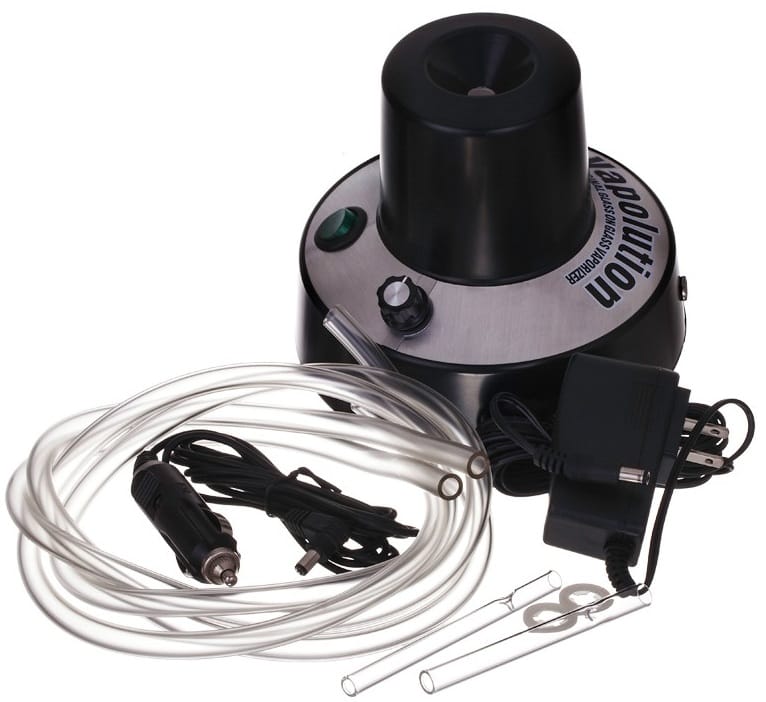 What's the Scoop on the Vapolution Vaporizer?
The company Vapolution has stepped up into the world of high quality vaporizing! Not only are the creators of this product environmentally conscious, but they have created a product free of metallic toxins. Do you ever wonder what the ethics are from companies that you purchase products from?
An Environmentally Friendly Company:
When you purchase a vaporizer from Vapolution, you can do it with pride knowing that they have put your vaporizer in packaging that is recycled. There is nothing wrong with that, and they even go so far as to operate and run their vehicles on 100% biodiesel fuel! The vaporizer is made with the highest quality and runs free of metal or ceramic.
It uses glass as its material that it is created from. This is something you can really taste and changes in the intake and quality of your experience will really shine through when you use this! It comes complete with a heater made of glass. This really does the trick.
Next, we can cover the mouthpiece. They have titled it The "All in Wonder" bowl. Here you can take off the plastic tube part that accompanies that rest and vape with just pure glass. This is a glass on glass action and is a very clean way to vape!
You are connecting a glass heater to a glass bowl to the glass mouthpiece! That's a lot of glass! This allows the hit to be very clean and you can really taste the difference. That really will affect your health also when you choose to vape in a way that you can utilize all the good aspects of your vaping experience.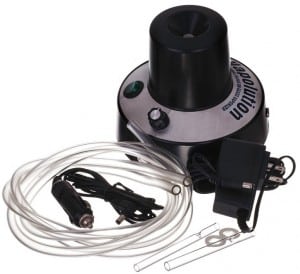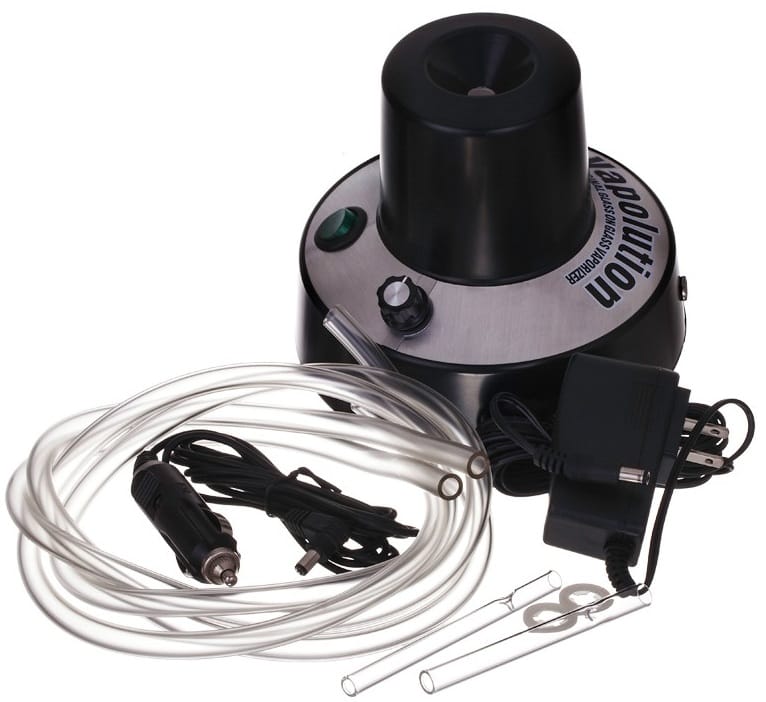 What are the benefits of vaping?
Vaporizing is a good choice when you don't want to hurt your body and lungs! There is no combustion that occurs when you are vaping so you don't ingest any harmful products like tar or carbon monoxide. All these by-products are harmful to your health! Another important factor to consider when you are vaping is the temperature that you are ingesting.
When you vape, you can choose cooler temperatures and therefore you are not harming your lungs and all other body parts. Also when you vape, you are using less product which is great for the pocketbook!
Options and Customization:
There are many great options that come with choosing Vapolution products! You can invest in the Vapolution Infuser which allows you to collect resins and oils out of the herbs that you are vaping!
Made in America, all the glass is blown in Chico, California. I love the fact that you keep your dollars in America. Shop Local!
Quiet as Quiet can be!
There is no noise when using this vaporizer! There are no bags needed, and the set up is basic. The vaporizer is fairly discreet and so easy to operate! Enjoy your vaping time with Vapolution2.0.
Easy to transport!
This Vapolution 2.0 vaporizer really is a unique machine. It is not heavy to transport, and you can carry it and move it anywhere. All you have to do is attach the battery to the vaporizer and you are ready to vape for a steady two hours! Even when the vaporizer is hot on the inside, it will not be hot when you are touching it.
If you choose to connect the Vapolution 2.0 to a plug and plug it in, you can keep the machine on for eight hours without having to be concerned that it will overheat. This is a great feature for some of us who might be relaxed and our minds may forget that we have it plugged in. (Some of us may be dreamy after vaping so it is good to know that your machine will not overheat!)
This vaporizer utilizes a unique way of packing your product into the vaporizer. All you have to do is split up the herb and then you make them into pellets and put those on the glass parts and vape away!! You will use less product than you may be used to! YAY! This company prides itself on the fact that you will use less of your herb!
Gravity and your inhalation will keep the herb pellets in the correct spot as you ingest the vapor! This manner will create such a clean and clear vapor you might be surprised when you find you don't choose to vape with another machine!
Did I mention that this is a hands-free vaporizer? Let me explain how easy this Vapolution 2.0 is to use. You only have to operate two controls! There is an on/ off button and a control knob that regulates the temperature. As I mentioned before, it has a glass heater and comes with a vapor whip. To remind you, this awesome vaporizer can heat up in less than two hours and it takes no time to heat up!
What comes with this Vapolution 2.0?
One Vapolution Vaporizer
Two glass bowls
Two retaining washers
Two medical grade vapor whips
One wall charger
One car charger
Instructional Manual
Manufacturer Warranty is included and this great vaporizer is made by Arizer. You also have the choice of choosing between Black and Silver.
Priced at $149 dollars you really can't go wrong with this high-quality glass on glass vaporizer complete with a recharge button that operates at a fast rate!
You won't have to worry when it is purchased. The Vapolution vaporizer will get to you free of concern. For all its shipping happens in the USA. I really like this part of the process.
So in conclusion, you are choosing a great product that is healthy to use and healthy for you, complete with glass parts that are easy to operate and easy to clean. You will experience a clean vapor experience, and you will support a company that is local in California and supports the clean vaping experience! We encourage you to try one today. You won't be disappointed!