Kandypens Gravity Vaporizer Review
This vape pen entails a storm of features and an elegant design. The numerous intriguing features are an astonishing innovation that exceed the quality of this pen. The design is as daunting and mesmerizing as a night full of stars. Kandypen's Gravity vape pen is the buzz of the town, it is truly an ecliptic pen that has reached the moon and beyond. This pen can only be used with wax and oils, herbs are an exception.
The clear tasteful vapors and sleek design make it one of the wax pens that have to be added to your collection. Kandypen reminds us why their pens are the standard that everyone else compares to.
It has yet again brought us the best seller vape pen that aims for sublime perfection. Gravity Vaporizers joins the ranks of greatness with its exceptional capabilities and astounding design. It was awarded the best vape pen of the year by 'Vapecritics'.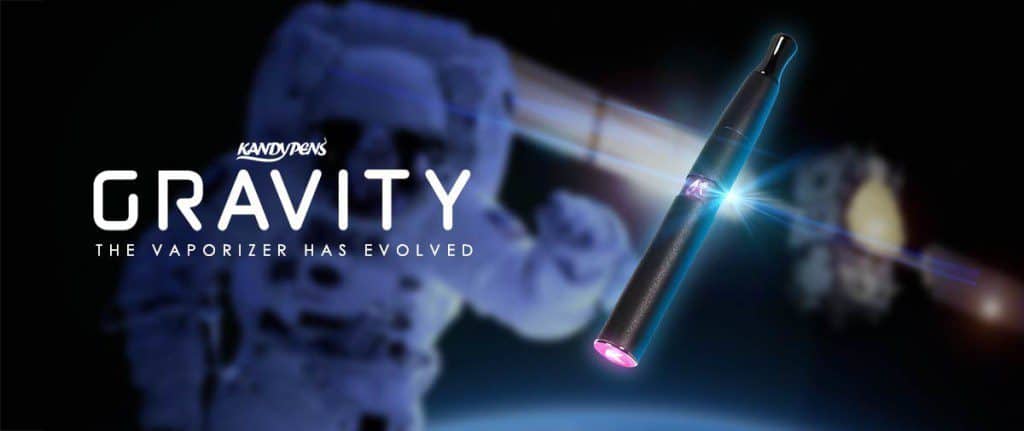 Design:
This Gravity wax pen has a curvy body that has a slightly adjusted head to ease its use for effortless and clear airflow. A distinctive curve like shape makes it so delicate and at the same time, it performs like a beast. The penis available in 3 gorgeous stealth matte black versions; sandblasted, polished and rubberized.
The design of this pen stands unchallenged, it is simply a marvel to glare at. The luxurious feel to the sandblasted version is alluring and is highly recommended. A fashionable item will not catch the eyes of an average person on a first look but do not let it deceive you.
The rubberized version may feel distasteful to the minority but allow me to reassure you that it feels incredibly comfortable to hold. The polished version of the vapor gives it the regular look and feel of a normal vapor that is usually available for most people.
The sandblasted version is easy to hold and gives it a rugged extraordinaire design. It is simultaneously simple and outstanding, it can appear as a normal pen and a dazzling masterpiece to those that have their eyes on it.
One of the great things about this vapor is that it provides us with the option to choose between coil-less ceramic plate atomizer or dual quartz crystal rod atomizer. We can use the ceramic plate atomizer for a smooth session and the dual quartz crystal rod atomizer for the long steady draws.
This sort of compatibility between two distinctive features of a vape pen has never been introduced, Kandypens Gravity is the first to bring it to us and it has done this so, successfully. The two very distinctive features of any average vape pen have been combined and placed in one.
Another feature that makes Gravity vapor one of them, must-haves. The battery has 4 options that are suited from 4 heat settings. Unlike most vapors that lose their battery easily on high-temperature settings. Kandypen's innovative strategies have placed 4 batteries for the 4 various temperature settings.
The logo 'k' changes its colors based on the current heat setting. It's pink at 300F, it changes to red at 350F, green at 400F and blue at 430F. The temperature can be adjusted by pressing it three times.
The color of the pen when the vapor turns on is based on the previous setting, the pen can be turned on/off following the previous safety feature of all Kandypens.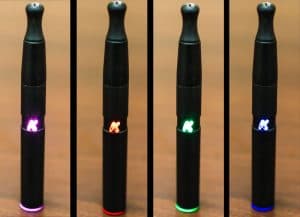 The air mouthpiece creates a smooth airflow by the addition of a carb hole. The top of the vapor had been slightly tilted, which had been finished with a remarkably stunning black color.  Kandypens not only provide comfort-ability but also gives us a commendable gradient design.
The airflow is one of the features which had to be improved in the past Kandypens. Something their new wax pen has magnificently overcome. They signify steps in the right direction and other companies should take notes.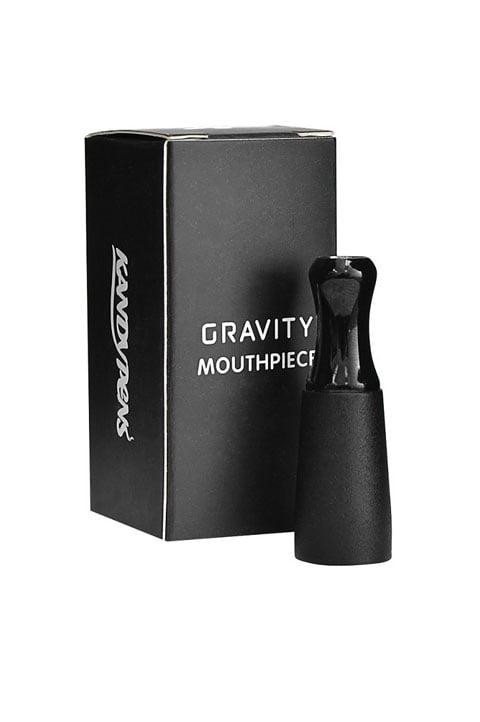 Usability:
There is undeniable excitement in availing all the features that this pen brings us. The inclusion of two atomizers and the addition of a variety of temperatures makes this wax pen usable for everyone and anyone. People that have a higher chance of coughing can use easily smoke at lower temperatures and still attain the full stress-free experience.
It is a tedious but vital task, cleaning a vaporizer, at times it has been a deal-breaker. Many great wax pens have been cast aside because of the enduring task of cleaning them up. The gravity vape pen has cleverly provided its users with a way to clear up their pens. Along with a purchase of this pen, Kandypens provides us with two alcohol wipes.
The vape can be broken up into several minuscule parts which make it easier for us to clean them up with those alcohol dabbed wipes. We do not have to squeeze our fingers and poke around for any remaining clutter.
An expected high-quality feature of this pen is the battery. It usually takes some time to charge up which can last as long as 2 hours. It may sound like a durable task but remain assured of these pen's capabilities.
The wait for it to be charged fully eventually pays off as the Gravity vapor can last for a few days not hours. You needn't fear a faulty battery either, Kandypens is known for their lifetime warranty on batteries.
It is one of the most alluring aspects of owning a Kandypen. The colorful changes in accordance with the set temperatures are actually something delightful to see. A bonus point of a gravity pen is to see its symbolic 'k' switch colors.
It usually blinks three times before actually attaining the desired temperature. The variety of temperatures can be appealing and add value to a product that already has several unique factors.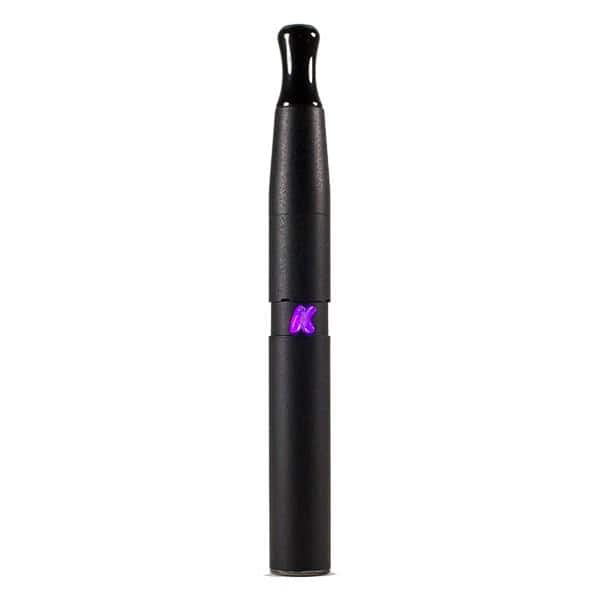 The fashionable design of Kandypens Gravity vape pen is astounding but from looking at it farther away it can seem identical to that of a normal pen. This makes it easier for the people to use with ease even in a crowd. Shying away in corners from the judging eyes will no longer be a lingering struggle.
The unique shape of a pen that it embodies, has made it convenient for people to carry it with them, they can effortlessly put them in their pocket, bag or wallet. The compactness and pen-like similarity make it easier to conceal it as well. The gravity pen is adaptable to any pertaining situation.
The deep chamber (0.5g) is a bonus feature that allows a large number of draws and it gives it the ability to last for a longer amount of time. I would recommend you use smaller portions, to avoid clogging the chamber.
The deep chamber can now reduce the intervals of adding the wax for easy use. The deep chamber makes it possible to take a huge amount of draws in a day. This makes it easy to use for all users ranging from light to heavy.
This Gravity pen is nowhere near cheap but it does provide you with such a high level of quality. Charging it at a relatively cheaper rate would feel like an injustice. The joyous experience makes the money worth it. An avid user is rightfully compelled to purchase the vape pen which has set the bar very high.
It consists of all the things that you could only dream of having one single pen. Though it may seem expensive, after purchasing it you will surely feel satisfied with your decision. The lustrous design and flattering functions are more than enough to convince me to purchase a Kandypens Gravity.
An avid vape pen user is aware of the ability of Gravity vape pen's dual quartz coils and the ability of a Donut vape pen's with a ceramic atomizer. Now, imagine the two greatest atomizers combined into one.
Well, you don't have to imagine, the gravity vape pen is all you need. It is the ultimate gold-mine for all those eager wax pen users. The atomizers have been strategically placed to create an efficient heat circulation system.
There is also a leak proofed layer below to avoid the oil from causing any havoc. The ceramic coil has a slow-burning feature that preserves the taste longer whilst the dual quartz crystal chamber has a fast burner for the more experienced user. The ceramic coil has a better quality to the vapor, it feels purer and on the other hand, the dual quartz has a significant amount of vapor with aggressiveness suitable for the experienced users.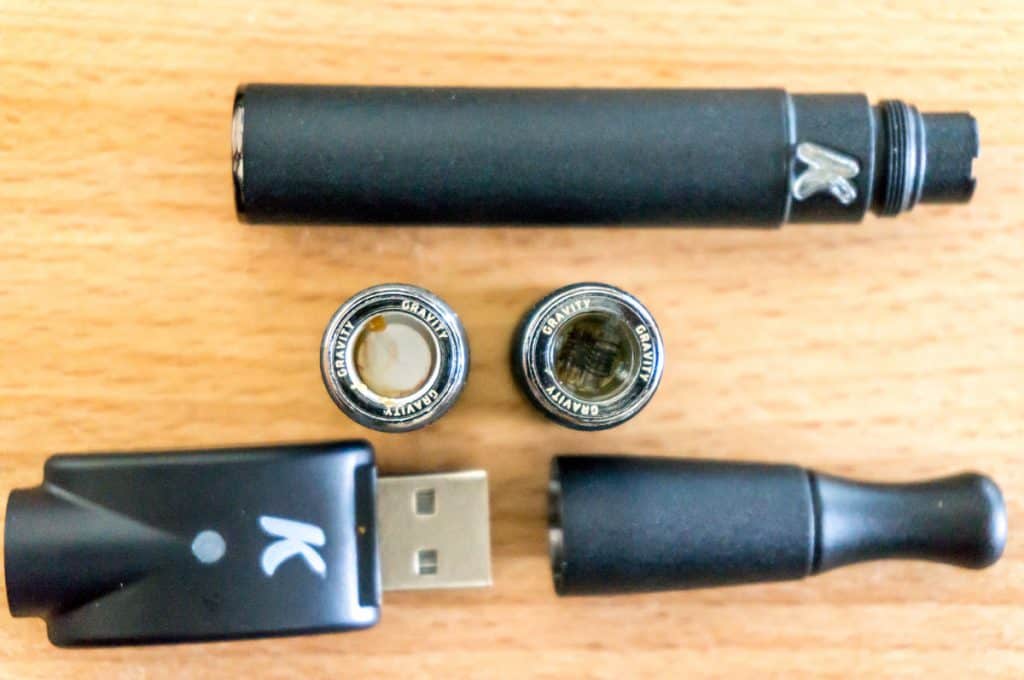 Verdict:
The verdict, though prominent, this wax pen has several aspects that need to be relayed. This Gravity vape pen has all the admirable and exceptional features that make for an exciting new addition to Kandypens trophy room. However, the vape pen which currently signifies the future of this industry still has the potential to elevate its standard.
Pros:
Durable Battery lifetime
Two atomizers
Stylish
Heat setting
Discreteness
Cons:
No micro-USB charging slot
Not for beginners
The gravity pen is definitely a ball knocked out of the park, it is a huge home run for Kandypens. We have a vape pen that can single-handedly be adjusted to our specifications. The inclusion of the dynamic atomizer duo is a revolutionary achievement.
Though it has room for improvement, the dual quartz atomizer is hailed for its suave airflow, the coil-less ceramic chamber has the potential to improve. It creates some resistance and harshness in the lungs as we draw.
The battery life of a Kandypens Gravity can always be expected to outperform any of its competitors, including the fact that it has the lifetime warranty if anything goes awry.
Though it was disappointing to miss out on the USB charging port, something that they could've taken note from their own Miva vaporizer. Nonetheless, the minor flaws are overshadowed by the outstanding design and marvelous performance.
Since both atomizers come separately in the box, it could be a matter of concern for some beginners. They might be confused on how to use it. They can eventually come around learn it, but it would initially feel something that they'd need an hour or so, with some googling, to learn how to use it.
The Kandypens Gravity adaptability makes it so special. The ability to break it down into multiple smaller pieces and the fact that it also accompanies a variety of options, give the users the possibility to use whatever soothes them. There is no longer the need to hide what might seem like an evident vape pen for others. The chic design and its fluid conceal-ability can help the user adapt to their surroundings, even in a crowd. It is all-in-one and much more. Click on the link below to order from the reputable vape supplier and always fast shipping of Vapor.com