We know how technology is creating the best for our needs, either being a helping hand regarding wellness or playing a role for merely recreational purposes. Now, the tech-driven world is even influencing the traditional methods of consuming nicotine salts and various other substances, which has led the world of vaping to experience an explosive rise in the number of its users.
Curiosity is getting the best of people to try out diverse varieties of vaping methods that are most compatible with their needs. The evolution of vaping is steadily making it a more convenient alternative to the traditional means of smoking. Conversion in vaping technology is also leading people to experiment with a wide range of ingredients, Nicotine salts being one of them.
Nicotine salts are the rising stars of the vaping industry that are gradually making their way to replace every other essential e-juice nicotine with its growing buzz. This unique variant of nicotine is offering several versatile features that are convenient and user-friendly, making masses, especially youngsters, attracted towards itself.
What exactly is Nicotine Salts? 
No, it is not your regular table salt mixed with nicotine. Nicotine salt is the same compound that comes from the tobacco after removing all the impurities away from it. So what makes it any different from the regular nicotine to be known as nicotine salt?
The purest form of nicotine is also known as Freebase nicotine, which is highly alkaline, comprising 7-8 PH levels of its alkalinity. You can generally find this in every other e-juice available in the market. Nicotine salt, on the other hand, is deliberately infused with different acids that helps in reducing the alkalinity of the freebase nicotine. Nicotine salts are more stable than freebase that lessens the chances of a harsher vaping experience.
6 Reasons To Think About Nicotine Salts
The vaping market is overflowing with assorted products to try out. It is very natural to feel confused with the selection process, which is why we are here to help you out. Here are seven signs that will tell you that nicotine salt is the exact product that you have been looking for!
A great start for beginners:
For newbies, complicated vaporizers and e-cigarettes are the scary part that drives away the majority of them to use some other user-friendly method. Nicotine salts free you from the hassle of sophisticated devices that take a long user manual to separate and rebuild it for different e-juices. All you need is a low output device, and you are ready to earn all its benefits. It offers convenience while its compact size allows you to get your quick puff anytime, anywhere. 
Smooth hit with a less bite:
As you know now, Nicotine salts contain a stable amount of alkalinity due to the addition of acids, while the freebase form of nicotine that is present in every other e-juice, lacks it. The highly alkaline nature of freebase nicotine leaves a harsh, stingy effect due to its strength during inhalation. Using nicotine salts provides you with an equal effect yet a smoother hit during inhalation, which makes the whole process a lot more enjoyable. 
A safer alternative to cigarettes:
The majority of people think if nicotine vaping provides you with effects as similar to the traditional method, then why not stick to the same old routine of smoking cigarettes? Though professionals state that vaping or the usage of e-cigarette is a safer method as compared to traditional cigarette smoking. Vaping not only provides you with a speedy kick of its effect but also releases fewer chemical toxins with its usage than what cigarettes are prone to release.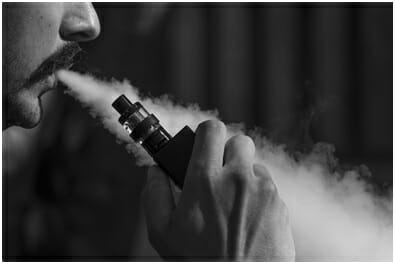 Quick absorption than regular e-liquids:
The absorption rate of nicotine salts put them ahead of freebase nicotine. They don't produce clouds which allows you to consume them in a more concentrated form. Nicotine salts get absorbed faster in the bloodstream as compared to the freebase nicotine that effects and lasts longer than the usual vaping juices. The efficiency and absorption rate of inhaling nicotine salts is quite similar to the properties that cigarettes exhibited, which makes it a better option for traditional smokers too. 
Keeping it lowkey:
Do you feel uncomfortable bothering other people in public with the smoke and heavy smell that releases during smoke? If yes then the Nicotine salts are just right for you! Nicotine salts cannot create humongous smoke clouds while you do not even have to carry large devices to get your much-needed puff at any time of the day. Nicotine salts help you to keep your habit low profile without compromising with the quality of the effect that it renders. 
Provides pronounced flavors:
The strength of nicotine present in your e-juice plays an essential role in maintaining the flavor of every hit. Freebase nicotine, with all its intensity, tends to be sharper on the throat while diminishing the flavors of your e-juice. Nicotine salts, on the other hand, have a lower concentration, which allows the users to enjoy the flavors of vaping too. For anyone who wishes to experience a more satisfying flavor with a modest hit, then they must go for the nicotine salts. 
If you wish to quit smoking:
The Difference between Smoking and Vaping
Traditional smokers believe that no other forms of tobacco consumption can satisfy as same as the way cigarettes do. Some think that is no longer true with the introduction of nicotine salts available for vaping.
Nicotine salts are the perfect choice for people who wish to leave the habit of smoking cigarettes. The ingredient contains a sufficient amount of nicotine. It is supposedly enough to provide the user with the usual kick that they expect to their senses.
Vaping nicotine salts offer quick absorption in the bloodstream that is quite close to that of cigarettes. Comparably, one consumes a lesser amount of toxins that they are prone to receive while smoking cigarettes. It can be the biggest motivation for you to drop your old habit. Visit www.gosmokefree.co.uk to know more about the benefits of quitting smoking and embracing the other alternatives.
The growing hype of vaping nicotine salts is making people wonder whether it is worth trying or not. If these factors are all that you have been looking for in your vaping juice, then nicotine salts are the best option for you. Whether you wish to switch from cigarettes to vaping or want to try something that is a less viable option, nothing can beat the effect of nicotine salts.