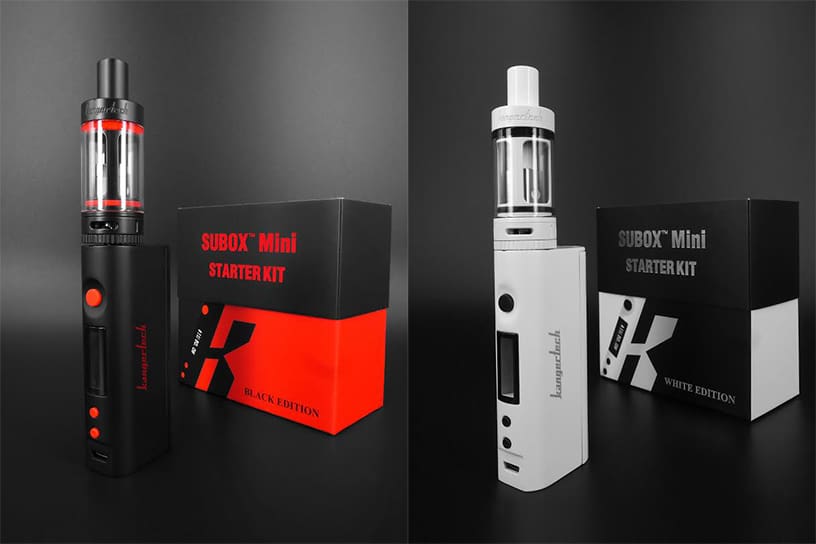 Kanger Subox Mini Review
50w of vape power in the palm of your hand!
A starter kit is an all-important purchase and one where you should be heavily contemplating all of the choices available in the market. There are many kits, which might appear to be good on the surface, but falter when they are used in person. It is essential to go over all of the details and make a well researched decision to ensure you purchase a starter kit that is going to be long lasting and provide the level of quality needed. One of the more recent starter kits to hit the market is the 'Kanger Subox Mini'. Let's take a glance at the pros and cons of this product and if you should be contemplating making the purchase.

What's Inside the Kanger Subox Mini Starter Kit
Let's begin by highlighting what you will get as soon as you make the purchase.
The box is going to come with Subtank Mini sub-ohm mod, mod, and a proficient 18650-rated battery. Along with these core materials, the box will also include a screwdriver, USB cable, screws, and some Japanese cotton.
It is a neatly packaged box and one that is pleasing to the eye when you first get a chance to see it. Kanger has done a remarkable job of showing their emphasis on putting forth a product that is worth purchasing.
The Subtank Meets the Kanger Box
Excellent Aesthetics
Let's begin with the aesthetics. Some will pinpoint the design as being simplistic or perhaps 'plastic'. However, the balanced nature of the design and an emphasis on remaining sleek and efficient makes this quite stunning.
The design team has clearly spent time on ensuring focus has been spent on making it a viable solution for beginners and experienced users. It is easy on the eyes and you are not going to mind holding it in your hand when using it as it is fairly comfortable.
Safety First
This is one of the safest options on the market right now when it comes to starter kits. There are numerous safety mechanisms in place to ensure the device works in a safe manner and does not cause harm to the user in any manner.
What type of safety mechanisms are in place? The safety mechanisms include over-circuit and/or short-circuit warnings. A 10 second overtime cut off is in place as well just in case the device is left on for too long and is unattended.
These are factors that pinpoint the emphasis on usability by Kanger as they always do with their products.
Ease Of Use
This is certainly one of the easiest to use products in the market right now. The on/off button is visible and easy to access. You are not going to have to fiddle around with it for hours prior to getting an understanding of how to maximize its potential.
Kanger has always been renowned for understanding how to make products that are easy to use and this does not fail to meet those standards. It is a high quality option that is easy to use, a perfect option for those who are in the market for their first starter kit.
Excellent Display
The LED display is front and center with the starter kit. If you are looking for a mod that is going to relay all of the information to you on an easy to read display, this is the best fit you are going to find.
The display is easy on the eyes and is visible from afar. You are not going to be squinting in order to see what it is flashing. This is imperative as you want to be able to use it with relative ease and any sort of display is going to go a long way in providing this experience.
Balanced Performance
What about the performance? This is what matters most at the end of the day. If the performance is not good enough, it does not matter how the rest of the starter kit is. The performance is balanced and you are going to notice the crispness of the design as soon as you begin.
The days of going with a starter kit that falters right off the bat are long gone. Kanger has made sure this is one of those starter kits that hits the right notes immediately as required in this day and age.
Compact
The design's aesthetic value has been spoken about already, but there is a lot more to its positives than just the look. It is the compact nature of the device that goes a long way in ensuring you are getting a long lasting device and one that is not going to break down at the first sign of trouble.
The plastic appearance can be deceiving and those who are not paying attention might assume it is going to be fragile. Kanger is known for going the extra mile when it comes to how robust their starter kits and/or products are and there is nothing different here.


Proven Brand
The brand itself is one of the major positives of this starter kit. You are not going to be placing your trust blindly in a brand that does not back up what it is marketing. This is the value of going with the best of the best in the market.
Kanger has been around for years and recognizes what the market are looking for. For this review, it was imperative to see how their customer service is as that is a big part of the brand and how it deals with the customer that is buying their product.
The customer service is fantastic and you can tell the emphasis they place on having a positive relationship with the customer at all times. You are never going to feel ignored and they work hard to have the problem rectified as soon as possible.
Pass Through Technology Can Require Getting Used To
Are there are cons that should be considered? There is one con that is going to trouble a few people that are first going to pick this starter kit up. The problem has to do with the 'pass through technology' and how the battery is going to be used.
A lot of people don't like the idea of having to get a device to charge the starter kit. They would rather carry around batteries, but that is not the case with this particular option.
You will have to adjust to its battery requirements and for those who are willing to make this sacrifice, it is a quality purchase. If you are regularly going to be carrying a battery, why not carry a battery bank instead? It is just as effective and is going to ensure the 'pass through technology' does not get in the way of your sessions using the kit while out and about.
Concluding Opinion
This is a substantial starter kit and one which should be considered by one and all. It is the complete package for those who are tired of considering starter kits, which provide mediocre results at best.
The fantastic combination of aesthetics, efficiency, and longevity is hard to ignore with the Kanger Subox Mini. It is a must buy for those who are in the market for a quality starter kit that is going to produce positive results. In the past, it was fine to go with the best of the worse, but that is not the case any longer. With the top brands paying attention to their starter kits such as Kanger, the competition is higher.
We feel Kanger has done a masterful job of producing a quality product.