A Brief Review Of All 5 Dr. Dabber Vaporizers – Are They Worth It?
Dr. Dabber is a vape pen that is portable making it very convenient to take with you everywhere. It is stylish and you can use it anywhere you want and still enjoy a very low profile. The physical effects of this vape pen are mild. However, using a vape pen will get you high if that is what you want.
A dab pen is basically a vaporizer pen that is designed to vape different concentrates of cannabis. The regular pen has atomizers, a mouthpiece, and a coil that heats the material. This has to be inhaled so as to get the vapor.
See the end of this review for coupon code!
There are some vaporizer pens that are great for beginners while others are perfect for people who have some experience. Here, we are going to look at some of the Dr. Dabber vape pens to help you make an informed decision should you decide to use one. On with the reviews!
The Ghost Vaporizer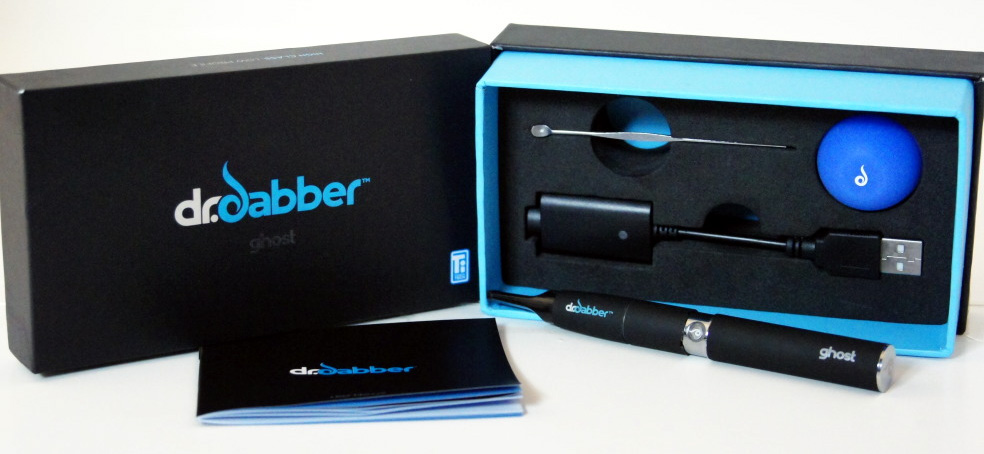 This is a vaporizer that is portable and very easy to keep in your purse or pocket. The overall unit quality of the unit is impressive and it is something you can hold confidently even when people are looking. There is a beautifully textured finish making the unit very robust. It is clean, sleek, and pays attention to every detail making it exquisite. One thing you notice is that it is quite affordable, but it looks expensive.
The Build
The build is done to perfection. All the different parts are well machined and all the parts fit perfectly. There is a button that is tactile without any rattles. The overall build makes this piece very durable.
One of the things some users have an issue with is the mouthpiece which is made of plastic. Though the material is of high quality, there are some users who feel that the mouthpiece is a letdown and taints the flavor. However, all other aspects are on point and it is still your perfect choice.
What you get with the Ghost Vape
When you buy the Ghost vaporizer kit, you also get a battery, a wax atomizer, a ghost attachment, a mouthpiece, an instruction manual, a USB charger, one dab tool, and a container for wax storage.
Using this piece is rather straightforward. You only need to pour some oil drops or even dab wax on the coil and fire. After this, you simply inhale through the mouthpiece. There are no fans, no settings for temperature, no heat-up times, and so on. This is a Vape pen that has simplified the whole process and this is what makes it a perfect choice for beginners.
Shutting off is also easy and you only need to press a button five times. This is done to ensure there are no misfires especially if you are carrying the device in your pocket. Turning on also requires one to press the button another five times. This is an elegant and simple solution.
Vapor Production
Many users get a pleasant surprise after using this vaporizer because it performs so well. Some really nice vapor produced is of a high quality that tastes clean and comes with clouds of vapor. The coil is of high quality and the low heat helps to keep the vapor tasty and smooth at the same time.
The no heat-up times makes this the perfect option. Once you press the button, you are ready to inhale the vapor straight away. It is always a good idea to let the coils heat for a couple of seconds though, so as to get that consistent vapor. Vape pens usually have some performance issues, but this is not the case with Dr. Dabber's Ghost. The performance is excellent and is much better than other pens within the same price range.
Battery life and the atomizers
Its battery life is quite impressive and can be rated at around 400 puffs. The actual usage will depend heavily on how an individual vapes. Most users can use it for a couple of days before they need to recharge again. Even when it is not being used, the battery still holds. There is no power draining.
When you want to recharge, it will take around 2 hours. It has a USB cord to serve this purpose. You can, therefore, charge at any point that has a USB port. This is a great reprieve for people who travel with the vaporizer for long distances. You can use a power bank or a car adapter to recharge the unit very easily.
The atomizer is the heart of the device. The coil is made of titanium that is high resistance and lasts a very long time without the need for a replacement. Silica is used to make the wick. Some vaporizers have an issue with this material since it affects the quality of the vapor. However, the Dr. Dabber Ghost vaporizer seems to have handled the issue and you get pure and clean vapor from the word go. This pen is worth a try since it is sleek and reliable. CURRENT PRICE $52.95 at the time of this post.
Dr. Dabber Light Vape Pen
Dr. Dabber has always been at the front line giving us some of the best vaporizer products for casual users. Dr. Dabber light is a perfect selection since you can conceal it while at the same time pack a very potent punch. This is the best choice if you want your Vape pen while on the go and don't want to attract too much attention.
How it is used
This one is very easy to use just like other e-cigs. You only have to click the button some 5 times so as to get the power on or off and then hold the button down as you draw. This is something that many regular users will find very easy to use in terms of function and form. The button is tactile and small and therefore provides you with a click ensuring that it remains engaged. When you activate, the Dr. Dabber logo at the bottom lights up and this allows you to know that it is on.
Pieces and Assembly
Assembly is very simple. There are some two main parts and that is the battery and the atomizer. For purposes of maintenance, you can take the atomizer apart and into 3 pieces. You can also take it apart for loading and for coil replacement when it is needed. Disassembly is also very easy. The pieces are held using silicone O-rings. They have a disassemble seal that is very easy to use.
The vapor quality and performance of the Dr. Dabber Light
Dr. Dabber Light is very similar to the Ghost vaporizer. The atomizer is made of titanium wire that is wired around a wick made of ceramic fiber. The coils are one of the biggest cons of this unit since they can't last that long. Performance can be degraded to a great extent as well. This coil is not cheap either when you want to make a replacement. However, one of the best things is that the box comes with two. The second one serves as a spare.
It is important to appreciate the fact that your atomizer will definitely get dirty as you continue to use. They, therefore, need to be cleaned out so as to perform at optimum.
The quality of the vapor is outstandingly great. The flavor is also great, especially when the coil is clean.
The Battery
Though the battery is small, it has sufficient power to run the unit for a long time. For short trips, the battery should be sufficient. Otherwise, you will have to organize how you will recharge. The battery is sufficient, especially if you do not plan to use it every day. It comes with a USB charger and has a light indicator to let you know the charging progress. Go to their website to purchase the Dr. Dabber Light. CURRENT PRICE $37.95
The Aurora (Stella) Vape Pen
Dr. Dabber Aurora, now called the Stella, is a high-class wax pen but can be kept at a low profile. This is a head-turner when you compare to other kinds of pens. This is something that looks so good that you may choose to buy it as a gift for someone important in your life. The interiors are made of ceramic and this is what makes it such a great quality for vapor production. All components are set up well and are in place. It is a great choice for someone who loves to keep things simple. The Aurora is a bit higher priced but it is definitely worth every cent.
It has magnets that hold the pen together and there is no threading meaning you will not be slowed down. It has different atomizers namely:
Dual ceramic rod atomizer
Donut ceramic atomizer
Crystal quartz atomizer
The temperature can be controlled easily and the design is very stylish. It looks like one fancy pen and therefore you can have it with you even in a board meeting. In one kit, you get 3 atomizers and therefore you can get quality vapor since you can choose between the three.
The ceramic interior does not have wicks and therefore, you get a chance to enjoy very slow and nice draws. Vapers will definitely love this choice because it decreases the bitter taste that comes from the residue after the substances have been blended. You can enjoy a very consistent and even draw.
There is also the dual ceramic rod atomizer that works well with low viscosity waxes. It is reliable and produces rich and substantial vapor, you need to draw slowly so as to get the best taste.
What does the Aurora (Stella) vape have?
The vape may look unobtrusive when you first see it. It is a sleek switch with a great satin finish. With it comes a battery unit that has variable voltage. There are also the three atomizers, a mouthpiece that is a shot-gun style kind of mouthpiece, a ceramic contoured mouthpiece, a USB charger, a dabber keychain, and a storage container that is shatterproof.
The Features
It has some brilliant features too. This comes with a matte finish, has 3 heat settings, a ceramic mouthpiece, multiple advanced atomizers, as well as swap tech magnetic technology.
This is a pen that is an amazing choice for beginners since it is very easy to use and you can get all the pieces in place very easily. There is also the design which is simply brilliant. Simply stylish and sleek with an outer shell that is black and flat.
It also has LED lights that add to the slick touch. It makes it a fun piece that is not so flashy. There are Snaptech magnets that are the greatest feature. They are easy to use and don't have any leaks or messes. The magnets can be cleaned very easily due to the flat surfaces. You do not need any extra cleaning materials since you can do the regular cleaning.
The chambers are well lined with quartz and it heats the vape pen in an even manner producing a very consistent intensity and quality of the vapor. This pen is a long draw because it produces lower heating than other pens. Get your very own Dr. Dabber Stella today. CURRENT PRICE $99.95 
The Boost Vaporizer
This is basically a portable oil rig that is powered by a battery that is a USB charger. The desktop oil rig can be too large to carry around and therefore, you need a smaller dabber that is easy to carry.
The Dabber Boost is a few inches tall and comes with a ceramic heating rod at the top. This is slipped in a quartz, ceramic, or titanium nail. The glass percolator mouthpiece is spill-resistant and attaches to the body quite snugly.
How it is used
You will have to charge Dr. Dabber boost before you use it. You then load the glass with some water and then click the button three times if you are using the titanium nail. If you are using a ceramic nail, you will have to click five times. This is the same case with the quartz nail.
The LED indicator starts as white and turns to blue after some seconds. This will depend on whether you clicked three times or five. The temperature rises to 600 degrees and then the heater turns off.
The Dr. Dabber Boost vapor pen is very likable and functions quite well as well. It produces clouds of cannabinoids, which is not the case with many types of portable pens.
The pen is a great rig and what makes it more exciting is the fact that is the latest generation model. It is a bit higher priced, but according to how well it performs, it is definitely a great choice for people who love dabber pens. Get your Dr. Dabber Boost today if they still are in stock. CURRENT PRICE $159.95
The Switch Vaporizer
This is the latest entrant from Dr. Dabber. It is a vaporizer with a heating system that is very fancy. This means that it actually heats up very fast and one can vape dry herbs and vape making it a versatile option. This could be the only vaporizer that you really need. It is one of the best vaporizers available in the market today.
The Dr. Dabber Switch vaporizer is quite highly-priced. It can be bought directly from Dr. Dabber and there are coupon codes available to allow you to make some savings.
This is a vaporizer that is multi-use and utilizes a new induction system which is the best and the fastest heating method today. Dr. Dabber is popular for making the best wax vaporizers and therefore you can be sure that you will enjoy it.
The induction heating is not like conduction or convection due to the fact that electromagnetic coils are used so as to heat the herb or wax. The coil is therefore heated from inside out instead of outside.
One of the greatest advantages of induction heating is the fact that it is so much faster than the other methods of heating. When there is induction heating, you don't have to think about the heating element or coil replacement.
The coil provides very fast and efficient heating through electromagnetism.
The Dr. Dabber Switch kit includes
The kit comes with the Switch main unit, a glass bubbler, two ceramic nails, a silicone wax container and a carb cap, a ceramic flower filter, and tweezers. The quartz nail can be bought separately and it is highly recommended because of the great flavor that can be enjoyed. The switch has a wax container and a dab tool.
The Features
This is a pen that is compatible w/THC concentrates as well as dry herbs. It uses induction heat and this means that it heats so much faster than other models. You can switch very easily between the weed and wax heating modes enjoying high temperatures of 300˚F – 800˚F.
The power settings and design
The lights usually glow yellow when in wax hearing mode. The lights are LEDs.
This model is around 9.5 inches tall but with the bubbler, it is around 13 inches making it a tall model and girthy too. It has an hourglass design that feels very comfortable to hold. The pieces snap so well together and the entire unit can be assembled quite easily.
The LED lights are used to indicate the temperature and they look very cool and are amazing for basic use. However, they are not the best for the advanced model. This is because the advanced mode has about 25 settings that cannot be indicated using the 5 LED lights.
The glass that is at the very top of the unit creates an ambient light and different patterns and colors. This is a feature that is easy to turn off in case you want some discretion. Get this awesome rig the Dr. Dabber Switch at CURRENT PRICE $399.99
Our Final Dr. Dabber Conclusion
It is easy to tell that Dr. Dabber Vaporizers are some of the best in the market and they can fit into different budgets. Make your pick today and have some of the most amazing experiences ever.
To get a little discount at checkout use our Coupon Code: EXTREMEVAPORIZERS15 Get 15% Off and be Happy Vaping!
Dr dabber ghost review?
If Dr. Dabber ghostly reviews the price is relatively high, some market vaporizer, but spare optimizer, portability privacy, and Size lead to Dr dabber best pocket vaporizer.
Dr dabber ghost vs. light?
Dr. Dabber Ghost is for those who want less refiller and make it convenient to take it anywhere. It is mild and gets you high; that is what you want. Dr dabber has the optimizer, temperature control, and switches with aurora.
Dr dabber pen review?
Dr. Dabber pen is portable, the best pocket pen, stylish, low profile, and get you high what you want. Dabber review is designed for vaping different concentrates of cannabis: nice pull, portable Size, and good value of money dr dabber review.
How to use Dr dabber?
1:Turning on the vaporizer, remove the glass2: To load your unit, remove the mouthpiece and airflow shaft.3: Read to load optimizer, now include your kit4: The density of your vapor relies on an open-air passage free of obstacles