In this Mig 21 Clear Fusion Review find out if this electronic cigarette kit is worth buying. How long do the batteries last, what kind of tanks, and overall quality and functionality? These e-cig parts are all V2 Cigs Compatible so you can use them with your Mig Vapor kit! If you are a beginner or advanced vaper this kit should peak your interests, especially for the price.
Mig 21 Clear Fusion Vape Pen Kit – Our Review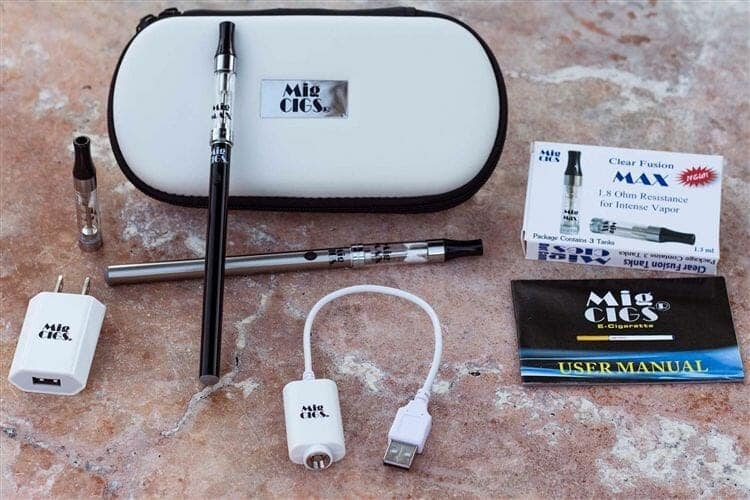 There are higher voltage batteries present in the vape pen kit which can last longer than most of the brands out there. Not to mention that thick and warm vapor that it produces along with the discreet size that it has. When compared to some of the other models of advanced vaping kits, this is the one that excels because of the tighter airflow. It really feels like taking a drag from a cigarette.
If you are on a budget, then you will be impressed by the price that it has which is pretty reasonable. It is a kit that comes along with 2 e-cigarette batteries. There are even some extra options that you can use to upgrade the tank to get the best one if you choose.
Batteries And Tanks Are V2 Cigs Compatible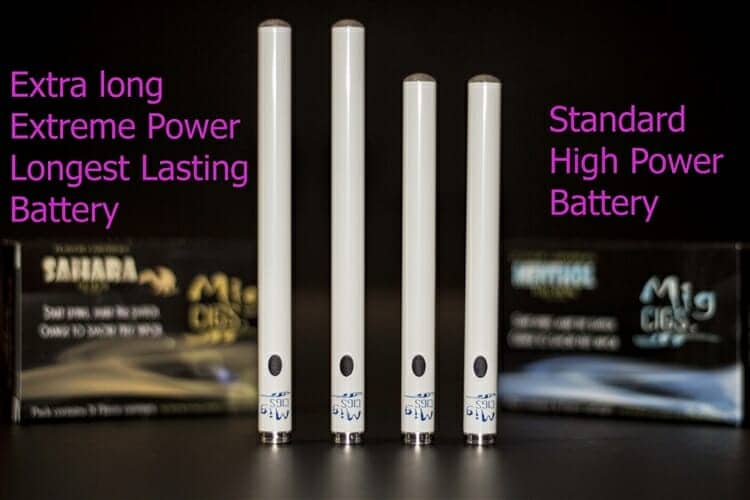 What e-cigarettes are compatible with V2 Cigs? While you are visiting MigVapor.com you will see that their e-cigs are compatible with V2 Cigs! This is a great advantage if you have V2 cigs products like many have. V2 was a great company and probably the biggest provider in the US for the past 8 years. Unfortunately, V2 Cigs sold their business recently.
Now again you can choose between automatic and manual batteries, the same as the V2's. Apart from that, there is a USB cable provided in the package along with a wall adapter and 3 1.3ml tanks as well. This should be enough for your vaping needs to start out.
The Mig 21 Fusion Vape Kit
The Mig 21 Vape Pen kit is one of the ideal options for the vapers out there who want to experience the best of vaping. The amazing vape kit has been in production for quite some time but it has been gaining in popularity recently for sure. There is no doubt that this amazing vape pen kit is very easy to use and will be doing the job extremely well. That is probably one of the main reasons why people want to use it in the first place.
This vape pen kit is easily accessible in your pocket. It's great for the portability that it has. There is an OHM device that can be used for the Mouth to Lung vaping technique. So, you can have all the feels and experiences of using real cigarettes. With a sleek, pen-type design and cool color options. So, you will not have any trouble carrying it at all as it is not boxy for sure. This is probably one of the best things that we love about the amazing Mig 21 Clear Fusion Vape Pen Kit.
What Do You Get In The Package?
The amazing Mig 21 Vape Pen Kit comes along with a few things which include:
2 Batteries
3 Tanks
A Wall Adapter
A USB Charger plus cable
A Carrying Case
A Free 30 ML Bottle of E-liquid
A user manual
Mig 21 Clear Fusion Batteries
There is simply not a single speck of doubt that we need to talk a little bit about the amazing Mig 21 batteries. They are provided to you with the kit. A particular assortment of different colors of the batteries that come along with the kit and there are some automatic batteries as well. With the automatic battery, you don't need to press a button to get it vaping, you just draw on it and it will vape.
At least two choices that you can get with the batteries from Mig Vapor. The measurement of the batteries is about 140mm long. The power is about 380 mAh and 4.2V as well. These batteries are not like the other ones and they don't emit that much of the voltage like the other batteries do in the operation. Apart from that, these batteries come along with a proper integrated circuit that can provide proper 4.2V until it is drained.
Colors And Manual Battery
Now there is also an option that people can choose and that would be to get the automatic batteries. These are the batteries that tend to provide the power or the voltage when the user is taking the hit. You can also select the manual ones in which you have to push the button for activation.
Not to mention that there are some amazing colors that you can choose from when it comes to batteries such as Black, Pink, White, Stainless Steel, Metal Rainbow and so much more. However, the important thing to keep in mind is that these batteries are pretty long-lasting and they will go as long as a whole day.
Mig 21 Clear Fusion Tanks
Another one of the best things that we loved about the Mig 21 Vape pen kit is that the amazing vape set comes along with clear fusion tanks which are leak proof. There are 2 different options for the amazing tanks. There is the Clear Fusion Vape Tank and also the Clear Fusion MAX Vape Tank.
One of the main things which you need to keep in mind is that the amazing MAX tank uses about 1.8-ohm atomizers in the first place while the normal one uses about 2.5-ohm atomizers. So, the vapers who need to have some more production of vapor are recommended to use the amazing MAX tank in the first place. For the vapers who want to have more flavor, the regular tank is the right option for sure.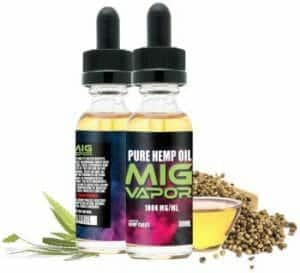 Tanks For The Vape Juice
Now another thing which you need to keep in mind is that this convenient top fill design which is provided in the tank will prevent it from leaking. Not to mention that amazing clear tank tubes which have a gauge reading stamped right there on the tube which allows the vapers to see the amount of juice left in the tank as well.
The tanks are capable of holding about 1.3ml of vape juice and the e-tanks are pretty amazing to go on and on for sure. So, these will be able to last for a very long time. If you vape a lot though you might decide for a bigger tank. Mig Vapor has some really tasty flavors of e-juice too. I have a lot of back pain so I really like the CBD juice they have made with pure hemp oil.

Pros
The vape pens are pretty lightweight and portable
Super simple and easy to use
The tanks are leak-proof and have a top filled design
Carrying case provided for better storage
Quality product with excellent customer service
Cons
Vape pens might be too thin
The tanks are small and have less capacity
Conclusion
All in all, it can be said that the Mig 21 Clear Fusion Vape Pen Kit is a V2 Cigs compatible e-cigarette and is a suitable option for all vapers out there. If you are looking for a different style of vaporizer Mig Vapor has a huge variety to fit whatever you intend to vape on. So, go ahead and buy one right now.