Unfortunately, V2 Cigs or VMR Products have gone out of business. Actually I heard they were bought out by the company that makes the Juul e-cigs. However, if you want to find another excellent brand of e-cig that is even compatible with the V2 e-cigarettes we are highly recommending Mig Cigs Vapor for a great price as compared to V2 Cigs. You can read our Mig Vapor review to find out more.
Here is Our V2 Cigs – Series 3 Pro – Review
Since V2 Cigs introduced a new line of vaporizers, V2 Pro, we managed to get one of them for testing purposes and this is our review of the new V2 Pro Series 3. If you are a vaper, you probably know about V2 Cigs. They are well-known for their slim, cigarette-style e-cigs, but they are yet to release a full-sized version.
V2 Cigs spent millions on research and development, with the purpose of building a vaporizer that would meet all qualities and functions other brands on the market already have, without giving up on the style they used their customers with. This is how the V2 Pro line of vaporizers was born. Featuring 3 in 1 cartridge, they can satisfy all vaper's, from beginners to experienced users.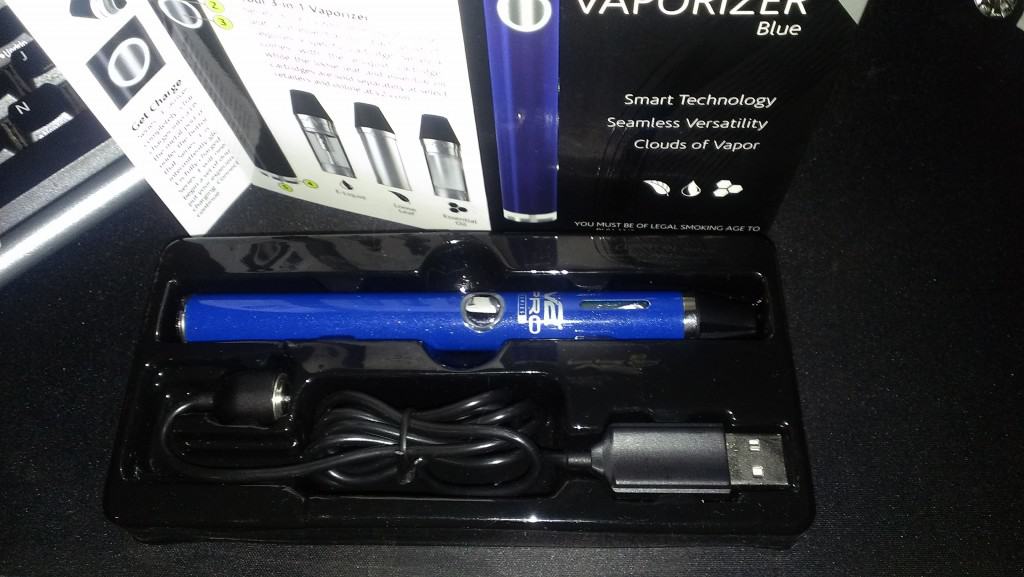 V2 Cigs Series 3 Pro Design:
There's something that the Series 3 has when you first look at it. The only visible difference is the magnetic head which makes the cartridges interchangeable without the need for the threaded connector.
These are the types of liquids that can be used with this vaporizer:
– E-Liquid (The series 3 Pro kit includes one of these, Price: $7.59 each)
– Loose Leaf (available for separate purchase, Price: $24.99)
– Essential Oils (available for separate purchase, Price: we could not find it anywhere by the time of this review)
The cartridge produces a moderately thick vapor. It has a rather smooth draw, offering quite a pleasant vaping experience. Unfortunately, Series 3 doesn't provide any adjustments for power or resistance, this being a negative fact. However, I'm sure the following series are going to include this useful feature as well.
The device has a sleek and elegant look, with its exquisite steel finish and its comfortable mouth tip. It's very nice that the casing only has a small window that allows you to see the liquid level or the cartridge type. It's perfect for those who enjoy a stealthier look for their e-cigarette.
Series 3 Pro Features:
Thanks to the magnetic charging base, the V2 Series 3 allows vaping while charging. Both the charging base and the cartridge are proprietary to the V2 Series 3. This will result in maintaining a large pool of loyal consumers since they won't be able to switch to other brands unless they buy a complete vaping kit. The downside is that you can't charge your V2 batteries with standard solutions such as 510/ego or mini/micro USB cables.
Loose Leaf: The conduction heating function is enabled by pressing and holding the button down for three seconds. The LED will change colors as it adjusts to the optimal temperature. When it's ready, the light will stabilize to green. By holding down the button again for three seconds, you interrupt the conduction heating.
Depending on the type of cartridge you use, the V2 Pro will automatically adjust the power output, so you don't have to perform any special settings when changing the cartridge type.
Series 3 Pro Box Contents:
Series 3: vaporizer, e-liquid cartridge, and USB charger;
Loose Leaf: e-liquid cartridge, scooper, cleaning brush and a user manual with detailed instructions.
Available colors: steel, black and blue
Battery input: 3.2V – 4.2V; Battery capacity: 650mAh;
Cartridge specs: 2.9 Ohms, 1.6ml
Our V2 Cigs Series 3 Pro Conclusion:
We appreciated the smooth design, unique and elegant, creating a very pleasing appearance. The moderately thick vapor is suitable for beginners, as well as for pros. However, some people may feel the need to adjust this thickness, feature not available for the time being.
The vape was solid, there were no leaks during the ten days of testing. My personal opinion is that the V2 Pro Series 3 is definitely worth its price, even if accessories such as the Loose Leaf cartridge will add a little to the total cost. Loose Leaf was the only cartridge we tested so far, but we are looking forward to testing the others too and come with an updated V2 Cigs review.
We believe the V2 Series 3 is a powerful player in this market, this 3 in 1 solution being something many people will be thrilled to enjoy. Use the coupon code "flavor" for 10% off all of their products and use "flavor15" to receive 15% off all of their Starter Kits. Visit their official website to order yours today.