A Sad Update For V2 Cigs November 2nd, 2018
I'm sorry to inform everyone who has loved the V2 Cigs reviews and e-cigarettes as they are no longer in business.
From what I heard the Juul company bought them out but also the FDA was constantly giving them unnecessary issues until they finally couldn't keep going.
So be sure to now check out the e-cigarette Mig 21 Clear Fusion Vapor. They are using the same type of parts on their e-cigs as V2 customers did. This means all your current batteries and cartridges will be compatible with these Mig Cigs. Prices are just as good as V2 was and they have a huge variety of just about anything you will need. They even have a "make your own" juice bar!
Worth checking out the Mig Vapor Cigs here…
V2 Cigs Review Starts Here:
A good friend of mine has been getting electronic cigarettes since they first came out. He has gotten quite a few different brands (including; V2 Cigs, Green Smoke, White Cloud, Blu, South Beach Smoke, and Lucy). Luckily for me, he let me try them all before I purchased one for myself.
After testing them all out I first narrowed it down to my top three choices (White Cloud, Green Smoke, & the V2 E-Cigarette), and from there between price and features offered I decided to get the V2 electronic cigarette. So now here is my personal V2 Cigs Review.

Getting A Great Satisfying Puff From V2 Products
The first thing I noticed about this e-cigarette that I borrowed was that it had a button on the side of the battery. This was unlike any of the others seen before. At first, the impression thought it was a bad idea. I couldn't understand why anyone would want an electronic cigarette with a button. Most have drag sensors to ignite the vapor when vaping. Automatic ones are the most commonly available.
After using it for a little while I realized the reason to value the button. If you are used to smoking real cigarettes that generally stay lit, one might find it annoying to use an automatic e-cigarette. There is always a bit of delay from when one begins inhaling when the vapor starts getting vaporized. Thus(with all brands), making you want to puff on it twice every time.
With the use of the button on the V2 Cigs brand, you can get a nice thick drag from start to finish just by pressing it a moment in advance of taking a drag. You will find that it is already producing vapor as you begin to puff.
This feature was one of the reasons I decided to go with the V2 e-cigarette instead of the other brands or starter kits. When I ordered my Starter Kit it came with three different customization batteries. I decided to get two batteries with the button(both black), and one without(one white), and all with red tips.
Multiple Options For V2 Cigarettes
I also like that when ordering you can choose different battery lengths. Some of which have different options for the led colors. I don't care for the 120mm battery, even if it lasts for 300 puffs it is still long enough and heavy enough that it feels cumbersome to me. Also, be warned; the 120mm battery does not fit in the carrying case.
The shortest battery feels the most natural to me. As an ex-smoker and I never smoked 100's. I ordered two short batteries and one standard size with my kit, and that seems to work out well for me.
I also got the portable charger(it's cool and it looks like a little cigarette tin). It's a nice feature not offered by most other e-cig brands. Having that allows me to use the shorter e-cigarettes and not have to worry about them running out of energy while I'm out and about.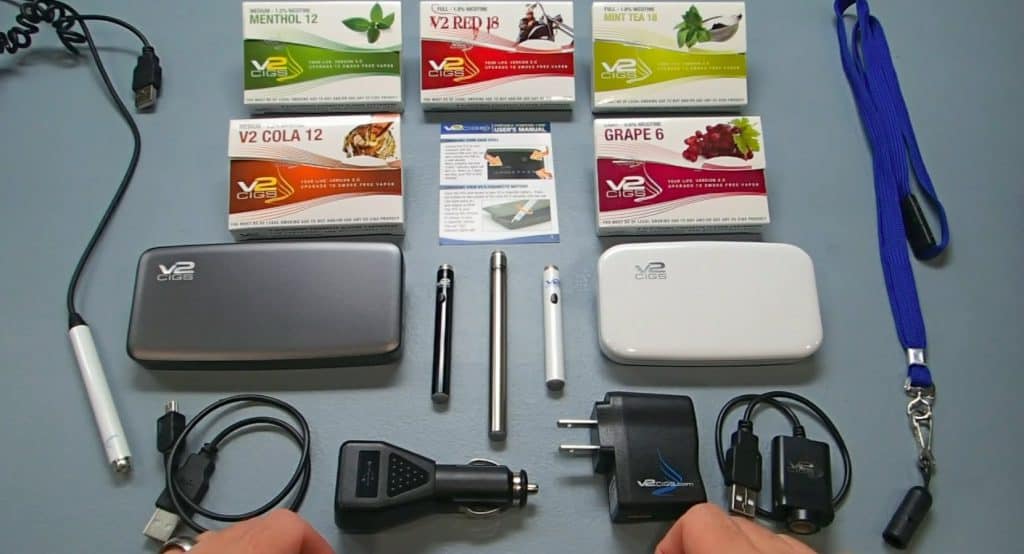 How Good Is The Vapor Production?
Possibly the most convincing thing of all about this e-cigarette model is the vapor. Out of all the e-cigarettes I tried, it seemed to have some of the thickest, most consistent, and best-tasting vapor production. The next two in line for a consistently thick vapor are the White Cloud and the Green Smoke e-cigarettes.
Neither of which offer a portable charger or the button battery option that I was originally skeptical of. Funny enough I began to prefer it most now after using it. I would suggest if you order a kit with more than one battery option, you definitely should try it out.
The V2 electronic cigarette allows for more options all around and is priced a bit cheaper than White Cloud(comparable with Green Smoke). Also, the small black batteries with the colored "filters", in the sleek black carrying case, have a nice aesthetic appeal to it.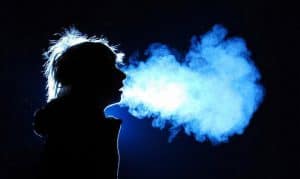 V2 Tobacco E Liquids And Other Flavors
I never really smoked or liked the flavored cigarettes as a smoker, but some of their wide variety of vapor flavors are excellent. I love the grape, it feels like smoking but leaves a slight candied taste that is pretty good. The other V2 e-liquid flavors, vanilla, chocolate, coffee, mint tea, cola, are good as well.
As for the cowboy and congress tobacco flavors(modeled after Marlboro reds, and parliaments, I believe) taste like the real thing. Gives you a nice throat kick more akin to a real cigarette than most other brands I have tried. They do make some high-quality e-liquid flavors.
You can buy blank V2 cartridges and fill your own or for ease of dealing with messy e liquids you can get the pre-filled V2 flavor cartridges as well. A lot of e-cig manufacturers don't give you these options, they usually force only their pre-filled cartridges to buy.
My Opinion On V2 Cigs Overall
All things considered, with the different battery sizes and e-liquid flavor options, the quality and consistency are the thickest vapor produced. The relatively cheap price for the quality of the product makes this e-cigarette my first pick of all the other electronic cigarettes I have tried.
Ever since I ordered my starter kit a couple of weeks ago and I have been quite happy with it. Chilling out Vaping a coffee flavor cartridge off my short black battery with the button(my favorite), while writing this review in my house.
I'm not supposed to smoke inside because I just rent here. I got the windows up because it's freaking cold outside and now I don't have to worry about damaging the place with a nasty smell! Same thing while I'm in my car. It's awesome!
Thanks for reading my V2 Cigs Review!
I hope you found it helpful in deciding on a great decision to quit smoking.
Give the gift that lasts a lifetime with V2 Cigs kits, cartridges, batteries, and accessories including the newly-launched Platinum E Liquids.
Update!: V2 Cigs has made some improvements since this post was first published! They now offer a lifetime guarantee on all products, as well as a thirty-day money-back guarantee.
Plus new expanded customer service hours. They have released a new stainless steel battery for all of their e-cigs. They are also offering a new cartridge flavor Sahara modeled after Camels. Not my brand of choice but similar tasting as it is.
New! They have now upgraded all of their batteries to 4.2 volts. This is to improve the quality and consistency of usage lifetime and consistent drags for all of their e-cigarettes.
Video Review:
You must be of the legal smoking age to purchase this product. Always say no to tobacco cigarettes! E-Cigarettes are not for kids!
Where to buy v2 cigs locally?
Buying V2 Cigs and E-cigarettes is quite tricky as they are no longer in business. Try out the Mig 21 Clear Fusion Vapor having all features using the same kind of parts.
Why did v2 cigs go out of business?
The main reason for V2 E-Cigs out of business is the tariffs, and it was closed in late 2018. V2 Cigs has closed permanently the fact that they were losing a tremendous amount of money each year
What is the best e cig?
1: V2 E-Cig vaporizers2: Mig 21 Clear Fusion Vapor3: V2 Pro premium vaporizers4: Aspire, Zelos Kit