Vapir
Prima

Vaporizer Review

The sexiest portable vape on the market!

Enjoy reading our Vapir Prima Vaporizer Review! It fits into the palm of your hand!

In September of 2015  Vapir, world-renowned vaporizer manufacturer, Exploded onto the scene with the release of their latest portable vaporizer; The Vapir Prima. From its sleek brushed aluminum body to the simple stainless steel vapor path I've got to say it, this is one of the sexiest herbal vaporizers to hit the market.

Vapir stands behind the Prima with a 5-year warranty promising an herbal vaporizer that is going to stay with you for the long haul. Read below for a detailed look into what makes the Prima tick and what sets it apart from other portable vaporizers on the market today.

[kad_youtube url="//youtu.be/zOQYCh1d_CQ" ]
Vapir Herbal Vaporizer Review
Since Vapir's founding in 1997, they have been setting standards in vaporizer quality and have made it their personal mission to create the ultimate vaporizer. Vapir has revolutionized the industry several times over with a growing product line of high quality personal herbal vaporizers.
The Vapir line includes the NO2 Portable Vaporizer, Prima, the Vapir Rise e-Hooka, Oxygen Mini,  and the One 5.0. They have turned Vapir into one of the leading manufacturers of portable and digital vaporizers.
Prima Features:
Supports Herbs & Extracts
Fast Heat-up Time
Removable Lithium-ion Battery
Brushed Aluminum Body
Removable Stainless Steel Vapor Channel
4 Optimized Temperature Settings
Modern, Sleek, and Stylish Design
Unprecedented Vapor Flavor & Density
5 Year Warranty
Sleek and Rugged Design
The body of the Vapir Prima is made of brushed aluminum and is available in Black, orange, blue and silver). It's Smooth surface feels great in your hand and included silicon base sleeve not only protects the unit from falls but keeps you from touching the warm surface over the bowl area directly. The Prima has a removable rechargeable battery making charging easy. A Stainless steel vapor path allows for a tasty clean vapor and is also removable making cleaning it a breeze.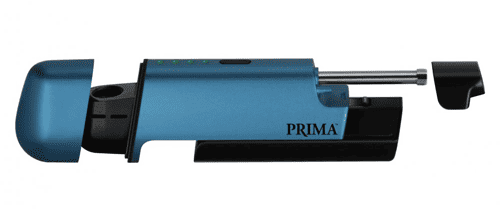 The Prima Kit includes:

2 x Screens
2 x Wax Pads
1 x Filling Scoop
1 x Cleaning Tool
1 x Plug Brush
1 x Silicone Cap Sleeve
1 x Charging Base
1 x Charging Cord
1 x Power Supply
Temperature Settings
Prima Temp Range – 176° C – 204° C
The Prima features four preset temperatures that can easily be selected via one-button operation. Choose from any of the following temperatures:
Level 1: 176°C ~ 182°C
Level 2: 185°C ~ 190°C
Level 3: 193°C ~ 198°C
Level 4: 198°C ~ 205°C

Battery Capacity
Lithium Ion. 3200mAh
The Prima's removable 3200 mAh Li-ion battery packs enough power for multiple seasons, and also eliminates long heat up times; with the maximum temperature of the Prima is reached in just 45 seconds.
Specs:
Heat-up time:

0-1 min

Brand:

Vapir

Adjustable temperature:

Yes

Portable / Desktop:

Portable

Compatibility:

Herbs and oils

Delivery method:

Direct draw

Automatic switch-off:

Yes
Multi-Use Supports Oils and Herbal Material
The mesh screen designed for the Prima's vapor chamber makes the prima perfect for herbal material as well as resins, waxes, and oils. To use the unit for herbal materials you grind up your material very fine and pack in semi-tight. Press and hold the power button to activate the Prima and press the power button an additional 1 to 4 times to choose your power level.
The First few pulls you take will be very light vapor as the material reaches optimal temp. After a few pulls from the Prima, I like to take the end cap off and press the material back down compact with the packing tool that comes with the prima.
To use the unit with oils, you can place the resin or drip the oil into the metal mesh at the bottom of the chamber. When vaping oils it is recommended to use a higher setting than with herbal materials to allow for maximum temperatures.
Take full advantage of vaporizer technology today with the Prima from Vapir. This vaporizer stands up to all of our expectations. Vapir has warrantied each of its units for 5 years. Making sure that the Vapir will suit all of your vaporizer needs for years to come.
This is now my favorite preset temp portable vaporizer on the market. The Vapir Prima portable herbal vaporizer has hit the ground running and just in time to join the ranks with the top vaporizers of 2016!
The Vapir line includes the NO2 Portable Vaporizer, Prima, the Vapir Rise e-Hooka, Oxygen Mini,  and the One 5.0. Vapir Vaporizers have turned Vapir into one of the leading manufacturers of portable and digital vaporizers.
Vapir-No2-Vaporizer
Vapir One 5
Vapir Prima
Vapir Oxygen Mini
Vapir Rise 2.0
Make sure to check back with our page frequently as we will be covering each of the Vapir vaporizers in detail. Vapir has become known worldwide for their quality products and customer service and is a great choice whether you are looking for your first vaporizer or you are a vaping veteran.
Extreme Vaporizers is proud to begin this new year 2016 by bringing you a fresh batch of extreme products for you to check out and experience for yourself. If you are not taking advantage of vaporizer technology today consider the many benefits of how vaporizing your herbal material can introduce you to an entirely new experience and the dimension of your herbs. To find out more about the benefits of Vaporizing Read more Here: Vaporizers Explained
---
If you are looking for a handheld vape with exact temperature control make sure to check out the