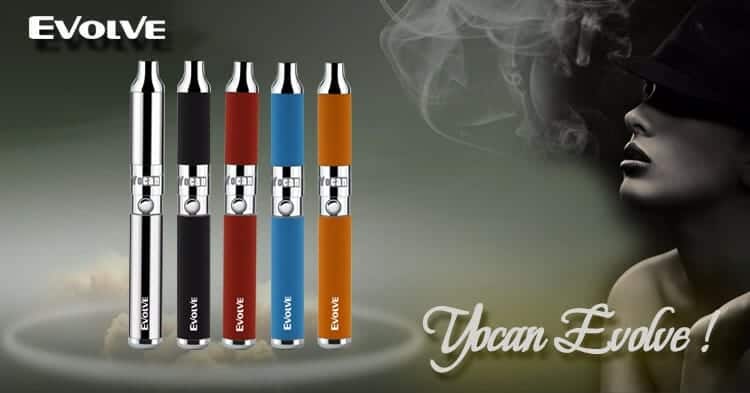 It doesn't matter if you are new to vaping or you have been at it a while. There is always a range of vapes that you might want to get your hands on. The Yocan Evolve vaporizer is probably one of them. It is important to note that, if you are looking to vape dry herb or oils, then this is not the bad boy for you. However, if you are looking to branch out and try wax-concentrates then – say hello to your new best mate.
Before we get into the details, you should know that the Yocan Evolve is under $40. Which is crazy when you read more about all the capabilities.
Yokan Evolve Colors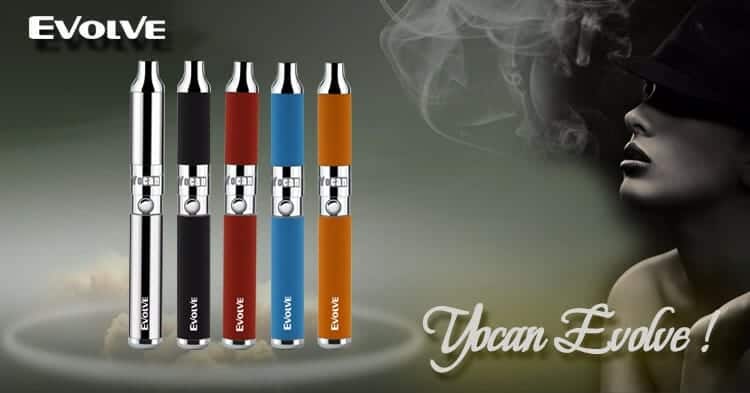 Okay, so perhaps the color of your vape pen isn't a big deal. But if you like choice, then this has a few options. Black, silver, sky blue, red and orange (which is sweet looking). 
What Do You Get?
Of course, it comes in a box, but the box is pretty slim and can be kept to store things like extra wool and the USB wire. Here is what is in there:
USB wire

Wax tool 

650mah Battery

2 Atomizers

Extra quartz dual coil
The Yokan Evolve Vape Device
The device itself feels sturdy and feels nice and light in your hand. The atomizer splash guard is also handy – because from time to time there is splatter with a wax-concentrate. The soft rubberized exterior is comfortable to hold too. 
To begin to use your Yocan Evolve pen, you're going to want to charge it for a while. Many people try and skip this, but you know, is it worth being out and it cut out? No, probably not. 
Unscrew the mouthpiece to gain access to the atomizer. Once you're in, unscrew the atomizer cap, so the heating chamber is visible. Take your dab tool, and load the wax straight to the heating coils, but always remember that you should not touch the coils with metal as it may cause damage. 
Screw it all back together, and you are loaded up and ready to go. Like with most wax pens or most vapes, you'll need to press the power button 5 times to start it up. And, again, like most, you'll need to press and hold and draw from the mouthpiece to vape. 
If you have a habit of leaving your finger on the button, you should bear in mind that the coil will heat until you rerelease the button or after 10 seconds. The Yocan Evolve doesn't have any temperature settings so you will need to find the best balance between draw, heat and the wax you're using. 
Vape Quality Of The Yokan
If you are looking for a powerful and potent draw then holding the button down for 10 seconds will give you the maximum heat too. If you are looking for a smoother vape, then aim for around 3-5 seconds, then pulse the power button. The dual quartz coil is a standard in most vape pens because of the flavor and cloud that it can produce. 
Battery Life & Charging
The battery is pretty standard and has much the same life as any 650mah on the market. If you are a daily toker, then you are going to want to charge this every evening. You do have to detach the battery from the body of the pen to charge it, so you can't use it while charging. 
Interesting Features!
Due to the coil design, the hot vapor cools off just before it reaches your lips. Due to the compactness of the unit, if you aren't keen on people seeing your vape, or you like to stealth vape as you go about your life, then this is ideal for you. 
Yocan's Overall Worth?
The Yocan Evolve is a great priced piece of kit and will work well for vaping beginners or people new to wax-concentrate vaporizers. The budget price does mean that you aren't getting that temperature control you might get with upmarket models, but you have to ask yourself is it going to make a difference to the smoking experience? With a high-quality wax – not. 
The average life span of a coil for someone who only vapes lightly will be the upper end of 4 weeks. If you are a heavy user, then you are probably looking closer to a week. Ordering extras ahead of time is in your best interest, as a dry coil, or one that is beyond its best will impact your vaping experience. 
An excellent option for budget-friendly first time vape enthusiasts or people looking to try wax for the first time.