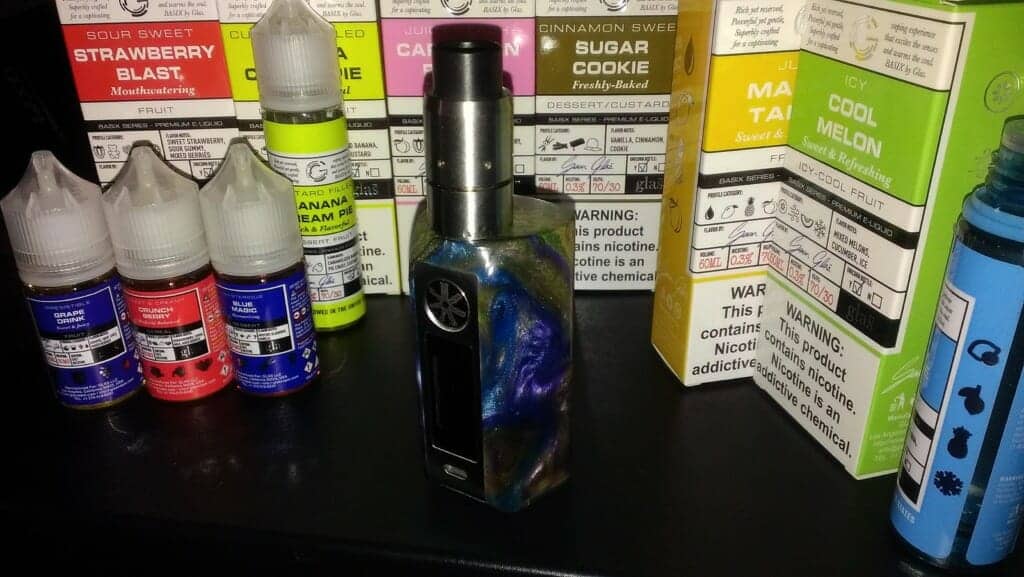 In this Glas Vapor review, I will be trying all the different flavors in the Basix Series line-up. Keep in mind that almost everyone's taste buds vary from person to person. I am very picky about the flavors I prefer and have trouble finding many I really like. E-juices I tend to vape often are usually fruity dessert type flavors.
I had a Vape Shop for 3 years so I have had the chance to literally try hundreds of different Juice Lines, e-Juice Brands, and tons of e-Liquid Flavors. This is likely to be the reason I have such a snobby preference these days. When I get bored enough of the juices I am vaping I will mix them to create more interesting blends for even more variety. I highly recommend trying that with some of the Basix e-juice too.
Here is a list of the line-up I got from Glas Vapor of their Basix Series e-Juice.
Each flavor I got is in a 60ml unicorn style dripper bottle. All are 3mg of nicotine and have a 70/30 VG/PG ratio.
Cool Melon – ICY-COOL FRUIT
Fizzy Lemonade – ICY-COOL FRUIT
Mango Tango – FRUIT
Caribbean Punch – FRUIT
Strawberry Blast – FRUIT
Blueberry Cake – DESSERT FRUIT
Banana Cream Pie – DESSERT FRUIT
Sugar Cookie – DESSERT/CUSTARD
Butterscotch Reserve – TOBACCO
Although I am not a big fan of the menthol or tobacco flavors there are a few in this order. This way the whole line-up is in this Basix Series review. Along with all the other flavors included I will do my best to describe how each one smells under my nose and vapes on my tongue.
Arrival Of  Basix Series e-Juice
The box of Glas Vapor's e-Liquids arrived as promptly as expected and packaged well. I always check my order for errors first so I don't accidentally open something that I will need to send back. All was looking perfect! I love it when I don't need to deal with customer service because they did it right the first time.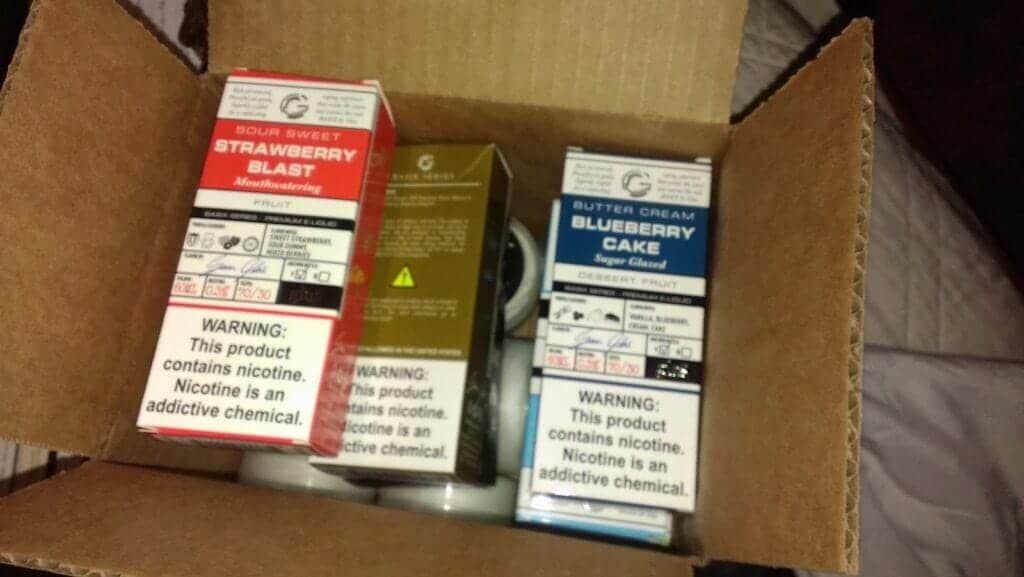 All seven flavors came in the same size boxes. With an easy to read the label on the outside of the box as well as on the unicorn style 60ml bottles inside. They try and match the colors with what would be most commonly associated with each flavor. Each Glas Vapor Basix Series label has its cool silver G logo at the top. Everything else that you usually want to know is on the front too!
Since the media complains about e-Juice companies targeting kids with their flashy labels, I can appreciate that the Glas Vapor Juice does not. I don't see a thing that I could consider attractive to the young ones in their graphics. Which is great, in my opinion.
Testing The Glas Vapor Juice
I will be using My Asmodus Minikin 2 with a Velocity RDA, as seen above and below, to test out all of these Glas Vapor Juice flavors. I have a TFV12 Beast Smok Tank I used with a few flavors as well. Soon I will probably pick up a Glas Vapor device to do some reviews on but I wanted to try the juice first.
Basix Series Cool Melon
Starting with the first Juice in the list above we have the Cool Melon. On the label, Sean Glas describes this flavor as "Sweet & Refreshing". Flavor notes involve Mixed Melons, Cucumber, and Ice.
Cool Melon Smells Like:
Right away as I breathe in this flavor I notice the cucumber. That alone made me double-take for another whiff. Then I start to smell the melon. I see why they call this flavor note mixed melons… it is hard to tell if it's honeydew or cantaloupe or watermelon. You can kind of pick out all three melons but not one seems to be stronger than the others. I don't notice any of the "Ice" or commonly noted as menthol by just the smell.
Cool Melon Vapes Like:
Once again right away the cucumber hits you on inhaling then with the exhale you start tasting the melons. Now I can really taste the honeydew and cantaloupe with the watermelon being subtle and more of an aftertaste. A few more seconds in and a mellow zingy flavor pops out. That tasted like a perfectly ripened cantaloupe, almost leaving your tongue tingly.
I thought the Ice note was going to be a lot stronger. I barely noticed it. It seemed more like a slight cooling effect that was coming from the cucumber. Like eating a lightly chilled fresh slice of cucumber! When I opened up the airflow on my Velocity RDA and took several monster cloud rips off this e-Juice that's when I noticed the Ice. Still, it's subtle and doesn't menthol up your whole mouth, you don't feel it in the throat or lungs at all.
My Overall Opinion of the Basix Cool Melon:
Considering I usually don't vape melon flavors much this flavor is pretty good. I was glad it didn't have much for the menthol in it. If I was stuck vaping this one all day I would be ok with that. I really liked the fresh cucumber too. On a scale from 1 to 10, I'd rate this e-Juice a high 7.
Basix Series Fizzy Lemonade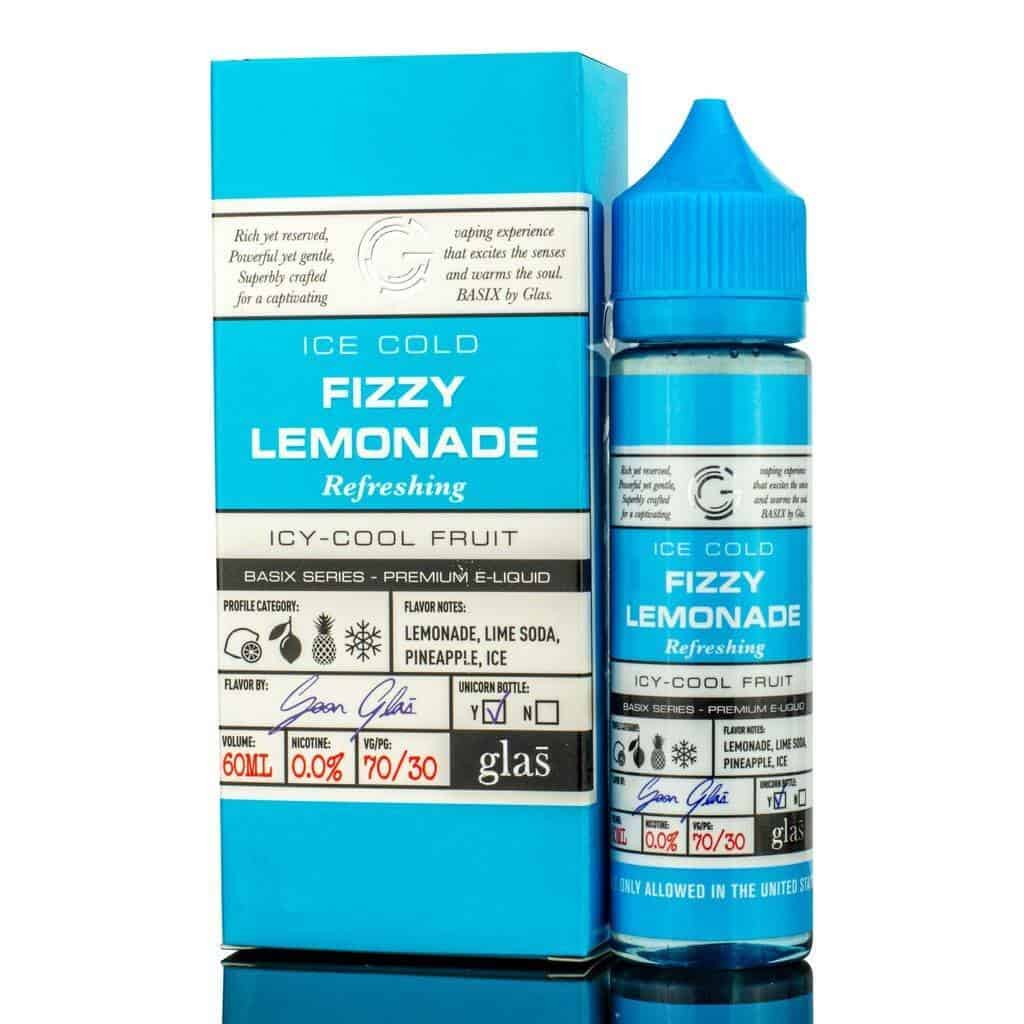 Another "refreshing" flavor we have here is the Fizzy Lemonade. With the flavor notes involving Lemonade, Lime Soda, Pineapple, and Ice.
Fizzy Lemonade Smells Like:
Definitely, lemonade is strong in the smell. The Lime Soda is also there but I might not have realized until seeing it as one of the flavor notes on the label. It reminds me of the smell of sour types of candies. Much like the sweet tarts or those gummies covered in sugary sourness. The lime reminds me of the lemon-lime sodas I used to drink all the time. Not much for pineapple or any smell of the Ice again.
Fizzy Lemonade Vapes Like:
It's no wonder there is no smell of the menthol ice because once again it is very light. Unless you take a huge puff off your vaporizer you get just a minor cooling sensation on the lips and throat. I actually like it this mellow since I'm not a big fan of menthol. If you like a lot of menthol in your juice you might be disappointed. I really liked the lemon-lime and almost a carbonation effect going on somehow. Now I see why the name Fizzy Lemonade. It's also slightly sour like the smell, with a tad of sugary sweetness on exhale.
My Overall Review of Fizzy Lemonade
To my surprise like the Cool Melon flavor, I really liked it. I doubt I'd vape it all day but if I had to it wouldn't be a big deal. It will be great to just mix things up a bit when I get bored with my favorite dessert type flavors. On a scale from 1 to 10, I would rate this flavor a 7 as well.
Basix Series Mango Tango
Expressing flavor notes of Juicy Mango, Pineapple, and Black Currant. Considered to be a "sweet and refreshing" Fruit flavor…
Mango Tango Smells Like:
I love the smell of this Glas Vapor juice! The Mango Tango is very tropical and very Mango indeed. The Pineapple is subtle but it is there for sure. Makes my mouth water just smelling it. I keep picturing sitting on an island with mango and pineapple growing everywhere. If I could have this as my car freshener smell I would be stoked!
Mango Tango Vapes Like:
Very smooth inhale and exhale for this juice. The mango is good and strong. It's sweet but not too sweet. With most mango flavors I've tried they are usually way too sweet for me. This I'd say has a medium amount of sweetness. The pineapple is a nice addition as it gives it a little kick of sourness. I think the black currant involved in this Glas Vapor juice gives it a bit of tangy to the lips which I really enjoyed. I'm pretty sure I could vape this one all day long.
My Overall Analysis of the Mango Tango Juice
It's definitely a nice mellow vape, not super sweet. I could vape it all day no big deal but I would be wanting to switch it up at some point. Pretty good flavor though overall. I will eventually go through the bottle since it's a nice palette change from my all-day vaping e juice. Not sure about mixing it with any other flavors that would work well. On a scale from 1-10, I'd give it an 8.
Let's Cut this Glas Vapor Review Short
Ok, let's cut to the chase and below I will give you my overall 1-10 opinion on the rest of the flavors. If you read this far already you should have an idea of my palette preferences and flavor favorites anyways.
Caribbean Punch – Out of 10 I give it an 8
Strawberry Blast – Out of 10 I give it a 10
Blueberry Cake – Out of 10 I give it a 9.5
Banana Cream Pie – Out of 10 I give it a 9
Sugar Cookie – Out of 10 I give it a 9
Butterscotch Reserve – Out of 10 I give it a 7
I got a few Salt Nic flavors from Glas Vapor as well and my favorite was Blue Magic. Definitely try these juices out if you are bored of your current flavors. All of the Basix Series e-liquids really surprised me. I even thought several flavors I usually don't care much for were actually not too bad. Check out Glas Vapor today for all kinds of e-liquids and vape supplies for a reasonable price.
If you like Glas Vapor e-liquids you might also like the Juishy e-liquids as well!
Here is a video on YouTube I thought was a pretty good review of the Glas Vapor Basix Series juice.