The popularity of e-cigarette style vapes has grown immensely in the past few years. You might have already got the perfect e-cig matching your personal preference and taste. It may have come with a bottle of e-liquid as well. But what if it's time to refill the e-juice? That's why we had to write this Juishy E Juice review.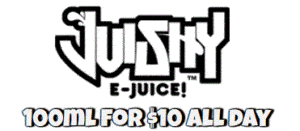 If the battery is the heart of an e-cig, the vape juice is its soul. Once the e-liquid runs out, you will need to grab some fresh juice. It's nothing to cry about!
Finding a vape juice that you enjoy and savor will enhance your vaping experience. Though any liquid can cater to the requirement of making vapor and providing nicotine, the quality and flavor of the juice are what matters. If you vape a lot, you probably need a lot of e-liquid.
There are many brands making delicious e-liquid and offering them at affordable prices. Some are claiming they are premium but really that's just in the price. One such product Juishy E Juice, an extremely inexpensive choice for refilling your vaping device.
Juishy E Juice Review – UPDATED 2023
Juishy is a USA-based company producing a wide range of e-juices to refill vapes, making it quite affordable. Unlike other companies that sell prefilled cartomizers to make huge profits, Juishy offers e-liquid bottles to provide cheaper options to users.
One thing that makes Juishy a great choice for vape juices is the fact that the eliquid by Juishy Ejuice is made and bottled in the US. It  is made using USP grade vegetable glycerin, propylene glycol, food-safe flavoring agents and laboratory-grade nicotine.
Juishy e-liquids come in a great variety of flavors to choose from. It is probably the brand offering the highest number of options. Apart from classic flavors like vanilla, chocolate, and coffee, Juishy has a great range of unique combinations blended with tastes and flavors from across the world to give enough choices to demanding vapers. Some of the most unique and fresh flavors include:
Fresh Fruit
Dutch Apple Pie
Cinnamon Mini Donuts
Blueberry Waffles
Banana Nut Bread
Arctic Grape
Monster
Strawberry Smoothie
Speared Mint
Watermelon Bomb
Cinnamon Buns eliquid
There are numerous delicious flavors that vapers won't be able to resist trying. Juishy E-Juice liquids are available in VG/PG ratios of 70/30 and 30/70 to provide more vapor and more sensation respectively. They also give you the choice of selecting the nicotine level from 0 to 24 mg to suit your requirements.
Here are the reviews of some of the Juishy E Juice flavors tested:
Strawberry Shortcake: Strawberry lovers would surely be pleased with this flavor as it is exactly what it says. It gives a feel of strawberries mixed with sugar in a creamy aroma. The inhale and exhale let you taste some sweet cream flavors. It has a bold aroma that converts into vapor and leaves you with an amazing aftertaste.
Blueberry Waffles: This vape juice gives the taste of hearty waffles dusted with Graham crackers and topped with ripe blueberries and maple syrup. You can taste blueberries upon inhaling the vapor and the cake upon exhaling. A strong flavor dominates this juice and you can sense the waffle clearly.
USA Tobacco: It is described as the blended American tobacco and is a great choice for tobacco lovers. Those who don't like the flavors of fruits and mints and want to stick to their feel of smoking would appreciate this flavor.
These are few of a large number of flavors Juishy E juice sells across categories like food, minty, fruity, tobacco, sweet, beverage, coffee, unflavored and DIY concentrates. The liquids deliver a decent throat hit.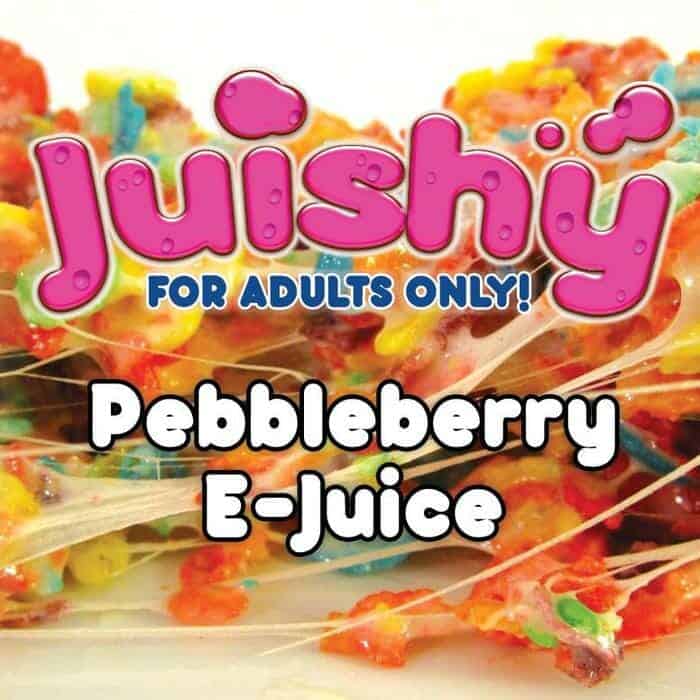 Juishy E Juice Ingredients
Like most other high-quality e-liquids, Juishy E Juice is constituted with standard elements in appropriate proportions. The main ingredients are:
Vegetable Glycerin – E-liquids contain Vegetable Glycerin or VG in the highest volume up to 80%. This ingredient enables e-cigs to produce huge white clouds of vapes.
VG is an alcoholic, non-toxic, colorless liquid with no odor but a slightly sweet taste. It is thick and viscous and used in conjunction with other ingredients to make the liquid juice for vapes.
Even though vegetable glycerin has never been linked to toxicity in humans, several studies have shown toxic effects of glycerol on certain animals. The long term health impacts of VG is still being studied and it's yet to be thoroughly assessed for possible impacts while smoking or vaping.
Propylene Glycol – The second highest quantity ingredient in the e-liquid is Propylene Glycol or PG. It is odorless alcohol with a faintly sweet taste and is added to foods, medicines and other products to retain their moisture. PG is generally safe to consume and inhale. It can carry flavor better and gives a higher throat hit.
Propylene Glycol is completely harmless for most parts and is even used in asthma inhalers, without ever being linked to any form of toxicity. However, with the advent and popularity of low-cost mass-market vaping, a number of sellers have started using diethylene glycol to save on costs, which is an industrial solvent that is absolutely poisonous and could cause death.
Natural and Artificial Flavors – The best thing about e-cigs is the wide variety of delicious-tasting flavors to choose from. And this can be achieved with food-grade additives used as ingredients to achieve the flavors. Juishy E Juice uses safe natural and artificial flavoring agents to provide a large array of options to the users.
Nicotine – Finally, the ingredient responsible for the main purpose of vaping, nicotine makes e-cigarettes an effective substitute for smoking. The e-juice satisfies one's nicotine cravings without having to burn tobacco leaves. Nicotine also gives a good throat hit. Though nicotine can get toxic in high dosages, vapers are quite safe as they get just the right amount of nicotine and not excess.
This being said, long term effects of nicotine could be just as bad as tobacco, especially on the lungs, so it's recommended to keep such activities strictly under control and only during special occasions or on the weekends.
If you're trying nicotine for the first time, be warned that the effects could be a bit intense, and this includes hiccups, belching, dizziness, etc., Though nothing to be worried about, it could be frightening for those who've never experienced it.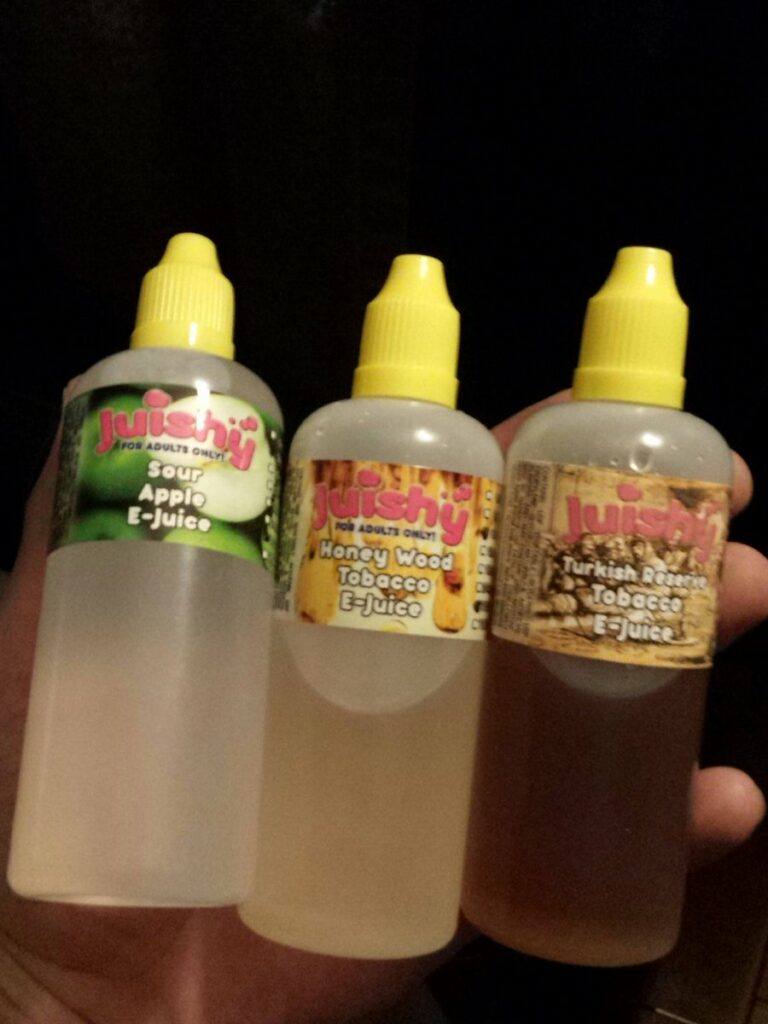 Juishy E Juice – Is This The Cheapest Vape Juice?
There are many high-quality vape juices available at cheap prices from different brands. While a perfectly suitable vaping device is a once-in-a-while investment, e-liquid is something that you need to reorder on a regular basis. You can experience new things by mixing and matching different tastes.
This is why frequent vapers look for affordable e-juice options that are easy on wallets. Juishy E Juice is certainly the cheapest vape juice as available online for a sale price of just $10 for a 100ml bottle.
You can choose from tons of exciting flavors in various blends of PG and VG to suit your requirements and taste. You can also choose the nicotine level to adjust your vaping experience. With such pricing, Juishy E Juice is definitely the cheapest e-liquid in the class, considering the quality and flavors available.
Due to the relatively lax regulations surrounding the vape industry, there are numerous low-cost brands that aim to lure in frequent vapers, but as mentioned above, that comes with significant risks, often ranging from long term health issues to immediate side effects, that could result in poisoning or death.
This is why it's absolutely essential to buy from reputed brands even if you're aiming for lower costs. Juishy E Juice is one such brand that has retained its reputation over time.
Visit EJUICE.DEALS right now for automatic 30% Off which is quite a Scary Deal!
Final Thoughts on Juishy E Juice
You need to experiment when it comes to vape juices. Try different E juice flavors and CBD's, different nicotine levels, and different devices and figure out what works the best for you.
It may take you a while to go higher, slowly. Just because you are stuck on a certain level, it does not mean that you take a plunge all of a sudden. Slowly work your way up. The slower you take it up, the better the experience.