You may be looking at the pictures above and wondering what the heck is this? We haven't got into a whole other category of vaping much on this website yet but we decided to start reviewing tobacco alternative type related vaporizers now as well. Considering several people that help maintain ExtremeVaporizers.com use them currently and quit their tobacco cigarette habits switching to them we wanted to share some of the best of these types as well.
This new device is pretty advanced for the typical 'just starting out' vape user. However it can work just fine for even a beginner. For someone just curious about Vaping E Liquids that doesn't want to spend extra money as a big investment I would not recommend this vape device. If you prefer a more simple design I would check out this Mig vapor vape pen kit.
Now into the review of the TFV4 Smok Sub-Ohm Tank and the X Cube 2 160 Watt Temperature Control.
Review Of Smok X Cube 2 With Smok TFV4 Tank Kit
Smok is well known in the vaping community for consistently delivering high quality devices at really affordable prices. The Smok X Cube 2 is the latest in the line of many amazing products released by the company. The temperature control mod also includes Bluetooth 4.0 connectivity and a whole lot of other features at a really decent price point, especially when compared to the competition.
Key Features:
Here is a list of some of the key features of this mod.
Temperature Control Technology
Users can set the temperature in the range of 200 to 600 degrees F. However, the temperature control works with only titanium, stainless steel and nickel wires currently and is not available for Kanthal and Nichrome wires. The mod automatically detects the Nickel 200 wire currently but user needs to pay additional charge for Titanium(.50c) and Stainless steel($1).
A recent update means that users can now set the temperature control directly from the device whereas earlier this adjustment was available only from the paid app. To ensure that temperature control works properly, you need to set the proper resistance coefficient for the kind of wire you are using. When default coefficient is set to 0.
The coefficient needs to be set to 0.006 for nickel wire and 0.0038 for titanium wire. Without setting a proper coefficient, the temperature control mode won't work properly and may result in burnt wicks.
Variable Wattage and Voltage
You can set the wattage in the range of 6 to 160 W which means that this device supports some of the most extreme sub-ohm setups. Also, wattage can be set to soft, normal and hard levels. In the soft mode, the device fires at 10% lower wattage for the first two seconds of the draw and then jumps to the actual set wattage.
In the normal mode, it keeps firing at the specified wattage. In the hard mode, for the first two seconds of the draw, it fires at 10% higher wattage and then drops down to the set wattage. The maximum wattage has been increased to 180 W with the latest firmware update.
It also allows users to set voltage in the range of 0.35 to 8 volts.
LED Light Options
It is one of the most beautiful looking vaporizers available in the market. Users can choose from up to 16 million colors by inputting the relevant RGB values through the app. The colors can also be set to rotate at various speeds including shade and jump. These lights look really cool when you are vaping with this mod with your friends.
Specifications
It has dimensions of 100 x 60 x 24.5 mm. It supports resistance range from 0.08 to 3.0 ohms. It feels a bit heavy as it weighs around 238 g. It comes with magnetic battery cover and can hold 2 18650 batteries.
The display is located on the top as opposed to the side. The display shows a variety of things including battery level, current wattage, set temperature, puff counter, wire resistance as well as real-time voltage and puff duration. This device has memory feature and can store up to 16 wattage settings. So, you do not need to worry about setting up the device again after changing coil heads.
The silicone mod case protects the device from bumps and it is available in five different colors.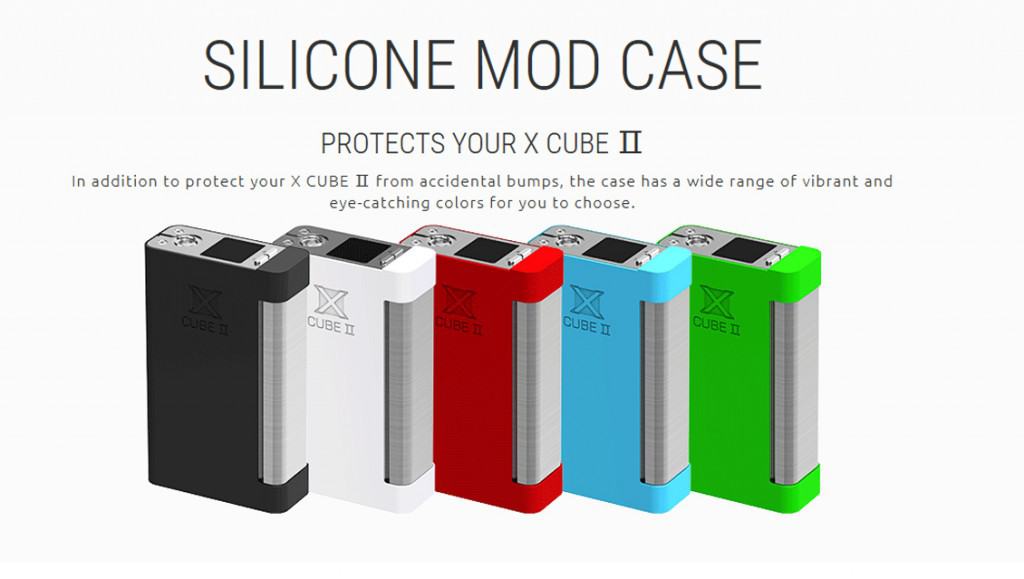 Firing Mechanism
Another unique feature of this device is its firing mechanism. There is no traditional fire button. Instead, the firing mechanism sits flush with the device and you just need to squeeze it lightly to fire the device.
Safety Mechanism
It is a high output device which means that safety is particularly important. It includes a number of safety features such as short circuit protection, heat management system, low resistance protection as well as automatic 12 second cut-off. It also comes with low battery warning which flashes on the screen when voltage drops below 6.4 V.
Smart Phone App Settings
It comes with an app for iOS as well as Android devices. Through the app, you can adjust various settings including voltage, wattage, temperature as well as a number of other things. The app also shows various things such number of puffs, how long firing the button, and changing the button colors among other things.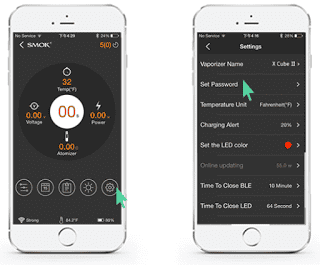 Smok TFV4 Tank Kit
Smok has also released its innovative tank kit called the TFV4. It is also available as a single kit. The major difference between these two kits is that the full kit contains a triple as well as a quadruple coil head whereas the single kit contains only the triple coil head. The full kit also comes with a spare glass tube in case you break it.

Along with the quadruple and triple coil head, it also comes with two types of RBA with single/dual coil. It also comes with an improved airflow system and an innovative drip tip. The tank has a capacity of 5 ml and a diameter of 24.5 mm. The tank has a height of 73.5 mm.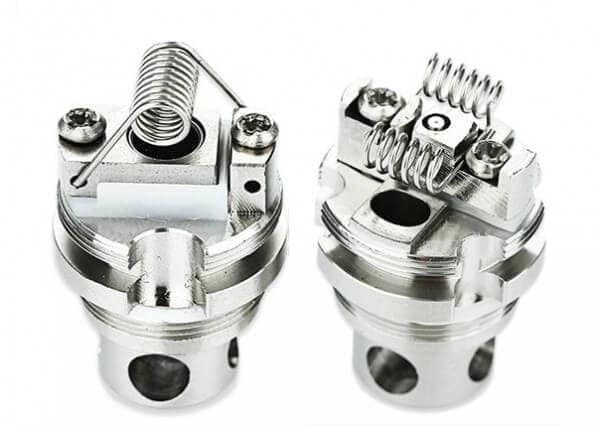 There are a total of five different types of coil heads which means that there is something for everyone. The triple coil head comes with three coils with each coil in a separate tube. They make a quad coil and a six coil too. The last two are the Clapton coils and the Titanium Temperature Control coils, OH yeah!!
The revolutionary drip tip comes with a double layered structure with an inner tube, outer tube and a heat shield in between. The heat shield prevents the outer tube from getting warm which means that the user can enjoy the warm vapor in the inner tube without the outer tube heating up.
There are a total of four adjustable air slots at the top and four adjustable air slots at the bottom. It also comes with a unique refill design which makes it almost leak-proof.
The Smok TFV4 tank comes in Stainless Steel and Black.
Conclusion
Overall, it is a decently priced variable wattage mod that also offers excellent temperature control. It not only looks good but offers a variety of controls that can be easily adjusted. The best thing about this device is that it is available at a lower price as compared to some of the other mods available in the market.
It is a value for money mod that offers all the features that one wants in a temperature control device and it is available in a variety of colors. You will find it difficult to find a comparable mod at this price point.